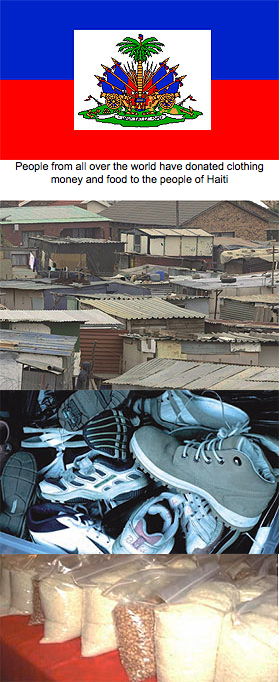 The earthquake that hit Haiti, a Caribbean island in the West Indies, caused major damage destroying almost all of the homes, buildings, churches and schools on the island. The strength of the earthquake measured 7.0 on the Richter scale. The Richter scale is an instrument used internationally to measure the force of earthquakes.
Funds and aid
After the earthquake, people from all over the world joined forces to help the victims and survivors of this tragic disaster.
In South Africa, all relief activities to Haiti will be co-ordinated through a ten-member ministerial committee set up by the Minister for International Relations and Cooperation. Serving on the committee will be the deputy ministers of Social Development, Health, Cooperative Governance and Traditional Affairs, Arts and Culture and Defence and Military Veterans.
The Gift-of-the-Givers, the South African Red Cross Society and Business Unity South Africa will also be represented on the committee.
Rescue SA
The South African government also got together teams of helpers called Rescue South Africa. They were sent to Haiti to join in search and rescue efforts. The first team included engineers, doctors and rescue dogs with medical supplies and emergency medication. They searched six sites including the United Nations headquarters on their first day and rescued thirty people. The second rescue team was made up of forensic pathologists who helped identify bodies of victims.
Gift of the Givers
Government, along with Vodacom, Netcare, Discovery, the SA Red Cross, the Salvation Army and Gift-of-the-Givers, a non-profit organisation, worked for weeks in Haiti to find survivors, help those who were injured and provide food and clothing to those in need.
Gift-of-the-Givers received help from the President's office, the Department of International Relations and Cooperation and the Department of Health.
Gift-of-the-Givers sent out teams of trauma surgeons, paramedics and doctors. They also donated R5 million worth of supplies like tents, blankets, water and medication.
Rebuilding
After seeing shocking images of the destruction in Haiti in newspapers and on television, hundreds of ordinary South Africans also reached out and made donations towards helping to rebuild Haiti.
- Samona Murugan
The whole world was shocked in January this year when thousands of people were killed and millions left homeless after a massive earthquake hit the island of Haiti. People from many countries, including South Africa joined forces and reached out to help them.
If you would like to help the people of Haiti, call the National Disaster Management Centre on 012 334-0667, or send an e-mail to:
georgerk@ndmc.gov.za