State of the Nation Address 2013
About the State of the Nation Address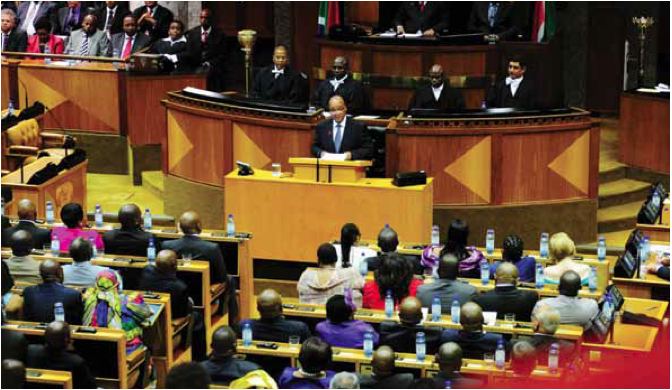 Every year in February, the President presents the State of the Nation Address (SoNA) to a Joint Sitting of Parliament. It is an opportunity for the nation to take stock of the country's domestic situation and foreign relations, and for the President to share Government's plan of action for the year ahead.
It is important for people to listen to the President's Address so that they can be aware of what Government is doing, how they can participate in Government programmes and what they can expect to see happening in the country. The President also uses the opportunity to report on the progress that Government has made since the previous SoNA.
The SoNA takes places at the opening of Parliament in Cape Town and is a day of colour, culture and tradition.
The complete version of President Zuma's speech is available in all official languages on www.gov.za, or you can contact the following Government Communication and Information System (GCIS) provincial offices to obtain a copy:
Eastern Cape
Union Arcade Building, Union Street, East London Tel:  043 722 2602 / Fax:  043 722 2615
Free State
Sanlam Plaza, East Burger Street, Bloemfontein Tel:  051 448 4504 / 4506 / Fax:  051 430 7032
Gauteng
ABSA Building, 1066 Pritchard Street, Johannesburg Tel:  011 834 3560 / Fax:  011 834 3621
KwaZulu-Natal
Sage Building, 21 Field Street, Durban Tel:  031 301 6787 / 6788 / Fax:  031 305 9431
Limpopo
66 Hans van Rensburg Street, Polokwane Tel:  015 291 4689 / Fax:  015 295 6982
Mpumalanga
Medcen Building, 14 Henshall Street, Nelspruit Tel: 013 753 2397 / Fax: 013 753 2531 Cell:  072 219 5136
North West
Nicol Centre, cnr Carrington and Martin Streets, Mafikeng Tel:  018 381 7071 / Fax:  018 381 7066
Northern Cape
7 - 9 Curry Street, Kimberley Tel:  053 832 1378 / 1379 / Fax:  053 832 1377
Upington
Tel:  054 332 6206 / Fax:  054 332 6218 / Cell:  082 339 9300
Western Cape
Kismet Centre, Lower Klipfontein Road, Shop No1, Athlone, Cape Town Tel:  021 697 0145 / Fax:  021 696 8424
Parliamentary Office
120 Plein Street, Cape Town Tel:  021 465 3658 / 3659 / 461 8145 Fax:  021 461 1446