Higher education in South Africa is more inclusive and better resourced than it was two decades ago.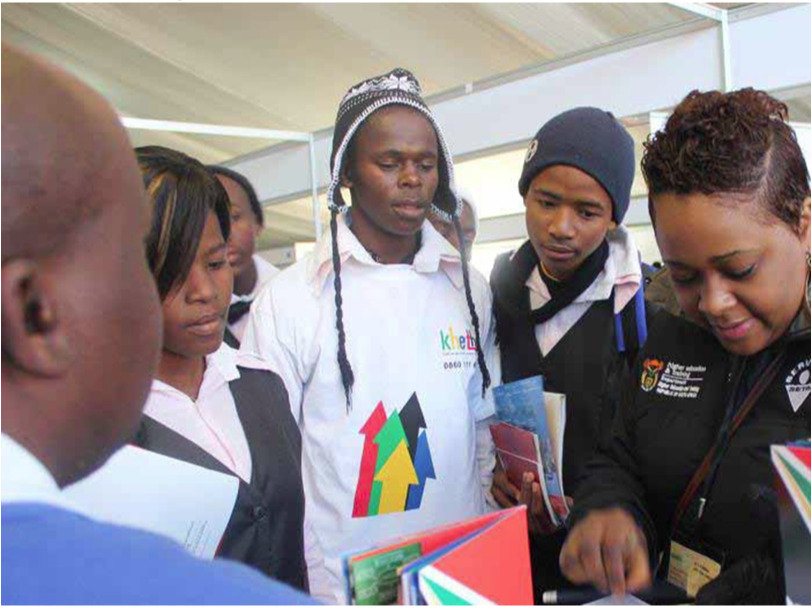 Billions of rands have been invested in the sector to ensure that students have access to the best facilities and the necessary financial backing to qualify in their chosen fields of study.
The important role that teachers play in the education system has not been overlooked either, with the Department of Higher Education and Training setting aside substantial funding to develop their skills.
Back in the 1990s, institutions of higher learning were divided along ethnic lines.
The terms historically disadvantaged universities and historically advantaged universities were used to distinguish institutions. Fast forward 20 years and the country's institutions of higher learning reflect South Africa's unique rainbow nation.
Former advantaged universities have become more integrated. In 1993, the 10 historically advantaged institutions were predominantly white but by 2011, black African students made 50 per cent of those enrolled in programmes at these universities.
Today, South Africa has 23 public universities with 175 campuses located across the country, with 937 455 students enrolled.
There are also 3 000 Adult Basic Education and Training centres with 229 000 students.
There are 21 Skills Education Training Authorities, which are funded to the tune of R10 billion.
The department also decided to merge various higher education institutions.
This process began in 2000 and since these mergers the number of students accessing higher education and training institutions has increased from 495 356 in 1994 to 938 201 in 2011.
An even greater accomplishment is the fact that female students now outnumber their male counterparts. In 2000, female students comprised 46 per cent student enrolments, but by 2011 this number had increased to 58 per cent.
Further Education and Training colleges
South Africa's 50 public Further Education and Training (FET) colleges were created after former technical colleges, colleges of education and training centres merged.
Smaller colleges were combined with stronger institutions to develop FET colleges that would reach more students and offer a wider range of programmes.
FET colleges have become the first choice of many young people as the programmes they offer directly respond to the priority skills demands of the South African economy. They also offer theory and practical learning.
To create these powerful institutions of learning, government introduced a R1.9 billion recapitalisation scheme in 2006.
Naledi Pandor, who was the Minister of Education at the time, said the recapitalisation would fast track the Department of Education's efforts, since 1995, to improve the FET sector. Since the establishment of FET colleges, enrolment at these institutions has steadily grown. In 2000, there were 153 technical colleges with 271 900 learners.
In 2011, these colleges enrolled just over 400 000 students and by the end of 2012 over 650 000 students had been enrolled in FET colleges.
The increased enrolments were as a result of the bursaries offered to FET college students by the Department of Higher Education and Training.
These bursaries increased from R312 million in 2009 to R1.7 billion in 2012. By 2014, the department will be providing bursaries to poor students at FET colleges to the value of R1.9 billion.
Funding for these institutions has also increased substantially from R3.1 billion in 2009 to 5.2 billion in 2014.
Financial Aid Scheme
With a large number of youth unable to focus on their education due to a lack of funding, government created the National Student Financial Aid Scheme (NSFAS). The scheme gives funding to academically deserving and financially needy students.
Since 2008, allocation to university and FET colleges through NSFAS has increased from R2.3 billion to R7 billion in 2012. The scheme gave 991 759 beneficiaries R25 billion in loans and bursaries between 1991 and 2011.
NSFAS targets out-of-school youth and adults, irrespective of the standard passed, and aims to expand post-school education and training opportunities to all deserving South Africans.
Teacher education
While in the past teachers relied on the knowledge they acquired at college, today the department has dedicated, stimulating programmes to develop their skills.
It was the Teacher Development Summit of 2009, which called for a new, strengthened, integrated plan to develop the country's teachers, upgrading their knowledge and skills.
Apart from developing the skills of existing teachers, the department is also focused on grooming new comers to the profession.
Teacher graduates have increased from under 6 000 in 2008 to 10 300 in 2011.
The national bursary scheme for teacher education, known as the Funza Lushaka Bursary Scheme, and the NSFAS has enabled prospective teachers to continue their training and qualified teachers to further theirs'.
Four new teacher education campuses were also established in the Eastern Cape, Limpopo, Mpumalanga and KwaZulu-Natal.
University accreditation
South Africa faces a huge shortage of chartered accountants with 40 per cent of vacant posts in the financial sector. To tackle this problem, the Department of Higher Education and Training will, over the next four years, inject R84 million into the Walter Sisulu University in the Eastern Cape.
The University of Zululand will receive R64 million from the Banking Sector Education and Training Authority through its National Skills Fund.
These investments will be used to get the two universities accredited by the South African Institute of Chartered Accountants (SAICA).
The accreditation will allow the universities to offer the Bachelor of Commerce Accounting degree and maintain teaching and learning standards that meet the demands of the chartered accountancy profession.
To date the department has invested more than R320 million through the National Skills Fund to improve and grow the accounting profession.
Other universities that have been accredited through a joint partnership between the department and SAICA are the University of Fort Hare and the University Limpopo.
Through these projects students will be able to earn high quality undergraduate degrees with international recognition, while the economy will gain a new breed of chartered accountants who will make a difference in their communities.
Infrastructure
Upgrading infrastructure is essential for the department to deliver on its mandate to create an inclusive post-school system that allows all South Africans to access and succeed in post- school education and training.
For this reason, upgrading infrastructure is a priority for the department and over the years billions have been set aside for this.
Some of the money spent on infrastructure include:
Upgrading and new construction projects - R1.1 billion to historically disadvantaged universities and campuses.
Student housing - R1.4 billion to historically disadvantaged universities and R239 million to historically advantaged universities.
R509 million allocated to engineering to meet the need of scarce skills.
R662 million allocated to meet the needs of teacher education.
R123 million to upgrading and creating new infrastructure of disability units.
For more information contact the Department of Higher Education and Training on 0800 872 222.