Written by Samona Murugan
Higher Education and Training Minister Dr Blade Nzimande has declared 2013 as the "Year of the Artisan".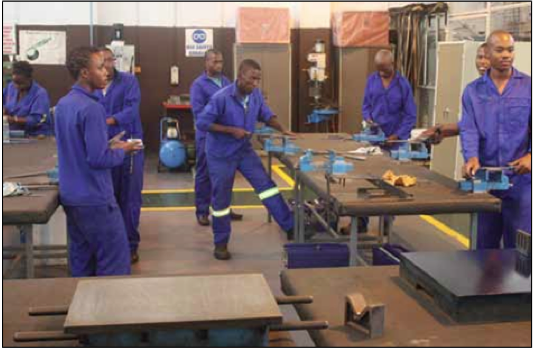 This comes as attempts are being made to address the huge shortage of artisans in the country.
Artisans are workers who use their hands to make things or are skilled in a particular trade such as craftsmen, carpenters, mechanics and boilermakers.
"South Africa needs more artisans as part of the national strategy to deal with the shortage of critical skills," said Minister Nzimande at the launch held at the Ekurhuleni West Further Education and Training College's Tembisa Campus recently.
President Jacob Zuma said in his 2012 State of the Nation Address that the massive investment in infrastructure must produce more than just power stations, railway lines, dams and roads - it must also industrialise the country, generate skills and boost much needed job creation.
Heeding the call for infrastructure development government allocated R1 trillion to the Strategic Infrastructure Projects (SIPs). The SIPs will ensure the building of roads, schools, universities, harbours, power stations and other social and economic infrastructure.
Minister Nzimande stressed that in order to successfully deliver on the SIPs, which are already underway, the country needed artisans. The growth of industry also required a significant number of qualified and competent artisans, he added.
The Department of Higher Education and Training has come up with various interventions to address the shortage of skills in the country. One of those interventions was the National Artisan Development Conference held in July last year.
The Year of the Artisan will kick off with a delegation, led by Higher Education Deputy Minister Mduduzi Manana, visiting all nine provinces to promote artisanry as a career option for the youth.
The visits aim to raise awareness about professionalising artisanry by assessing and recognising the skills of existing artisans through the Recognition of Prior Learning (RPL) process. They will also highlight opportunities that are available for the youth and unemployed adults to develop skills as artisans.
It is hoped that the programme will have a great impact on the country's ability to develop the skills required by the labour market.
"In declaring 2013 as the Year of the Artisan, we appeal to our critical stakeholders to work with us in putting into sharp focus the need for the production of artisans as part of the national strategy to deal with the shortage of critical skills in South Africa. We have also invested billions into the development of our FET Colleges. Our goal is to develop them into institutions of choice, so that we will not have to import skills from other countries to deliver on our SIPs," said Minister Nzimande.