Funding from the Automotive Industry Development Centre (AIDC) is giving small businesses a much-needed boost and helping with job creation.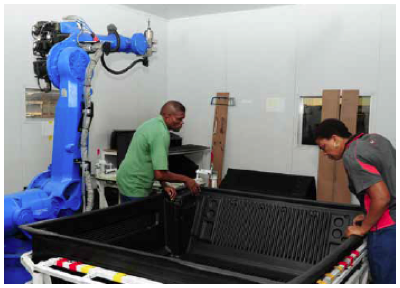 The AIDC, an agency of the Gauteng Department of Economic Development, has invested millions of rands in small, medium and micro-sized enterprises (SMMEs).
Sibusiso Buthelezi's business, Babuthe Automotive Components, is one of them. Buthelezi's company makes bedliners, which are covers that protect the inside of the new Ford T6 Ranger that is not yet available in South Africa. He explained that a new concept was designed where high-density polyethylene (plastic) material is melted in a vacuum form- ing machine to make the bedliners.
In a month Babuthe Automotive Components manufactures 96 bedliners, which are then exported to countries in Asia and Europe.
Currently the company employs 18 workers, who are on a fixed-term contract, and makes a turnover of R684 183 a month.
In 2010 Buthelezi saw an advertisement, which said that the AIDC was looking for small businesses in the automotive manufacturing sector to develop further.
Ford South Africa had announced that it would be too expensive to build its new T6 Ranger in the country. This meant that the Gauteng economy would have lost R80 billion and 800 000 jobs would be cut.
The Gauteng Provincial Government then stepped in and through the AIDC put up R50 million for the construction of an Incubation Facility that would manufacture parts for the T6 Ranger.
Neeraj Kessery manager at the AIDC's Incubation Programme Department said an additional R15 million was set aside to train six companies – Buthelezi's company is one of them - that would manufacture parts for the vehicle.
The companies were given financial assistance and also helped with skills development, and the manufacturing of world-class material. They work out of the Incubation Facility situated at Ford South Africa in Silverton. Buthelezi explained that when he was selected to be part of the programme a specialist company, Vacuform, was working in partnership with him.
"Vacuform is the company that specialises in vacuum forming. We are working together and they are mentoring and transferring skills to my company."
Kessery said the businesses would be assisted for about five to seven years after which support would be gradually reduced. Eventually the companies would move out of the Incubation Facility.
He added that the aim was to get the bus nesses to be active participants in the automotive sector.
"The cycle will then continue by re-incubating more SMMEs," Kesser explained.
Buthelezi, who had been working as an industrial engineer for about 10 years for companies such as Nissan, Denel and Mercedes Benz, said it felt good to be contributing to the economy of the country.
"This is a very exciting opportunity for me to be part of this programme. This means that the country is moving towards the right direction in addressing economic issues of the past and building sustainable businesses," he added