Youth matters
The doors of learning have opened a little wider for inmates in Durban thanks to new school premises at the Westville Correctional Centre in KwaZulu-Natal.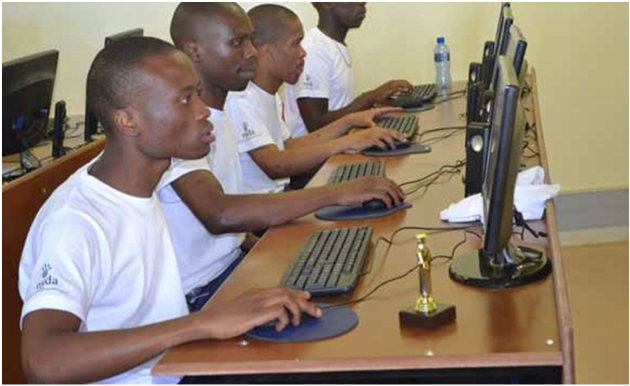 Lessons at the Usethubeni Youth School were previously conducted in four cells, which were divided into eight classrooms.
Since January the school has been operating from a building at the prison and now boasts six classrooms, a computer laboratory and library.
A building that was previously used as the Parole Board's offices was renovated and turned into the school on the recommendation of KwaZulu-Natal Regional Commissioner of Correctional Services Mnikelwa Nxele.
The National Application Centre, which deals with applications from prospective students to universities and Further Education and Training colleges, donated 500 books to the school's library.
The National Youth Development Agency donated six plasma screens, which will be used for life orientation, and 10 computers. The inmates attending the school will be introduced to the world of information technology, thanks to the 30 computers donated by the KwaZulu-Natal Department of Education.
In addition, the department will train two educators to manage the library and assign a librarian to set it up.
"Key to rehabilitation is empowering offenders to have skills to function effectively in society on their release but, equally important, is to ensure that offenders are actively involved in productive activity while they serve their sentences," said the school's deputy principal Nelly Mkhize.
She added that everyone at school was motivated for the year ahead now that they would be working in an enabling environment and not the prison cells.
At the school's opening recently, Correctional Services Minister Sibusiso Ndebele said the school had been the torch bearer of formal education in Correctional Services since 2004, boasting an average of a 91.79 per cent matric pass rate to date.
It obtained an 81.3 per cent pass rate in last year's matric exams.
He noted that the school offered courses in Adult Basic Education and Training (ABET) Level 1 to 4, National Senior Certificate exams, as well as technical education, which includes welding, carpentry, bricklaying and computer science.
This year 45 inmates have enrolled for matric at the school, the highest number of candidates in the school's history.
Minister Ndebele said Correctional Services had been working with tertiary institutions to upgrade the skills of inmates. "The University of South Africa has, over the years, come on board to assist inmates with career guidance and facilitated the securing of loans. The University of Kwa-Zulu-Natal has also been working with the Department of Correctional Services Durban Management Area, on a drama project for several years," he explained.
Correctional education is meant to prepare prisoners for success outside of prison and enhance the rehabilitative aspect of prison. Minister Ndebele said his department wanted to turn prisons into learning centres, where offenders read, study and work.
From 1 April 2013, it will be compulsory for every inmate who does not have a qualification equivalent to Grade 9 to complete ABET Level 1 to 4, he added.
Across the country a number of new youth centres at correctional facilities operate as full time schools. These include Emthonjeni Youth, Barberton Youth, Barberton Maximum, St. Albans, Craddock, Leeuwkop, Johannesburg Medium C and Brandvlei.
Correctional Services has 19 textile workshops, 10 steel workshops, 10 wood workshops, six bakeries, one shoe factory, 21 farms and 94 vegetable gardens, which provide development opportunities for offenders.
*Molatelo Mokumo works for the Department of Correctional Services in Pretoria.