Written by Siphiwe Nyathi
Retrenchment is no excuse to live in poverty or become a beggar. That's the philosophy that drove Christopher Zwane to succeed after he was retrenched from a retail company 13 years ago.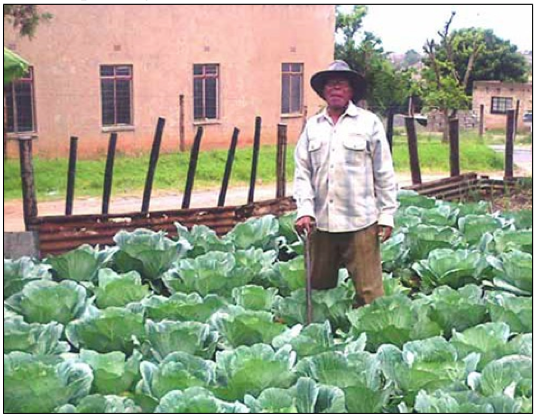 Zwane, from Thandukukhanya in Mpumalanga, decided to turn his backyard into a vegetable garden and started growing cabbages, beetroot, carrots, spinach and lettuce.
"After my retrenchment I became part of a group of community members who wanted to start a farming project with the sole aim of owning a big plot on which we wanted to produce a variety of vegetables. That didn't work out so I had to start a farming project in my own backyard, which turned out to be a success," said the 60-year-old.
Advice
Offering advice to others who find themselves in a similar situation, Zwane said people should not focus on what they didn't have but instead try to use what they did.
"I never thought that the little land I have here in my backyard could yield results. I have a contract with the local Spar and the support is encouraging. The Spar has become dependent on the lettuce and spinach I produce here."
Zwane is part of the Mpumalanga government's Comprehensive Rural Development Programme (CRDP), which not only develops big farms but also supports backyard food gardens as part of efforts to alleviate poverty in rural communities.
"The programme has indeed touched many lives in our community as most families have returned to tilling the land to produce food. I've also trained six families in the art of vegetable farming. I always check on their progress and they are developing well," he said.
Through the CRDP, Zwane receives assistance in the form of insecticides to spray his plants as well as supervision from extension officers who monitor his progress and needs. Zwane's food garden produces vegetables throughout the year and he applies the crop rotation principle to maintain the soil's fertility. The farmer was reluctant to disclose his turnover but was optimistic that his business would grow from strength to strength in the years to come.
He attributed his farming success to the sup- port of his family and his love for agriculture. Zwane's children join him in the garden during the weekends.
"I still cherish the dream of one day owning a farm to increase my productivity and market share and hopefully I will also get involved in poultry farming," he added.
CRDP extension officer Nellie Makhanya said Zwane was an example of how farming in one's backyard could bring relief to impoverished families.
"Zwane is such a passionate farmer who is prepared to learn and take farming very seriously. We are hoping this will inspire other community members to go back to farming," she said.