Education empowers
Many children dream of becoming doctors, nurses, teachers or lawyers and making a difference in their societies. To achieve these dreams they will need to study and further their education. However, studying at a tertiary institution costs a lot of money and many parents cannot afford it.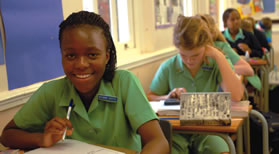 To help hard-working and determined young people to realise their potential and achieve their dreams, funding is available from government's National Student Financial Aid Scheme (NSFAS). It helps needy students with financial aid in the form of bursaries or loans.
Students who apply for financial aid may be granted a full or partial bursary. This means that a student may be granted a bursary, which covers all or only half their tertiary fees. To cover the remaining half, families can apply for an additional loan. The amount of money you will get depends on your Grade 11 exam results and your family's income or financial situation.
You will have to go through a Means Test, which will assess your family's financial situation to see whether you qualify for financial
aid. Your family may have to make a contribution depending on their income. The rest of the funds needed may be provided through a loan from NSFAS, or you may qualify for one of the bursaries administered by NSFAS.
Many tertiary institutions and private companies offer bursaries, but you have to apply well in advance to avoid missing the deadlines.
Funza Lushaka Bursary Programme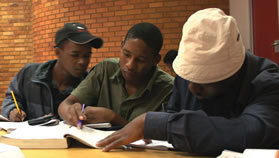 If you are interested in studying for a Bachelor of Education degree or a Post-Graduate Certificate in Education (PGCE), the Department of Education offers the Funza Lushaka Bursary Programme. Students who are interested to apply for this bursary and are successful,
will be required to teach in a provincial education department for the same number of years they received the bursary.
The bursary covers tuition fees, residence or approved accommodation and meal costs, books and learning material allowance and a monthly allowance for living expenses. For more information visit http://www.funzalushaka.doe.gov.za/.
The Department of Trade and Industry (dti)
The dti offers the following bursaries for five applicants for 2011.
BCom Economics: You will need a level 5 or between 60 and 69% in English and Mathematics.
BCom Econometrics: You will need a Level 5 or between 60 and 69% for English and a Level 6 or between 70 and 79% for Mathematics.
BCom Accounting: You will need a Level 5 or between 60% and 69% for Mathematics and a Level 6 or between 70% and 79% for English.
BCom Statistics: You will need a Level 5 or between 60-69% for English and a Level 6 or between 70% and 79% for Mathematics.
To apply you must be a South African citizen and you must have the following: a copy of the admission letter to a tertiary institution where the above fields of study are offered, a completed bursary application (it can be found on www.thedti.gov.za), ID photos and certified copies of certificate/exam results.
Post all these documents to: Mr Norman Hlungwani, Department of Trade and Industry, Private Bag X84, Pretoria, 0001. 
Send all these documents to:
Mr Norman Hlungwani,
Department of Trade and Industry,
Private Bag X84, Pretoria, 0001.
The closing date for applications is September 2010.
For more information, call 012 394 3423 or e-mail NHlungwani@thedti.gov.za
How to apply for financial aid
Get an application form from the tertiary institution you plan to study at and apply for your field of study.
 
You can only apply for financial aid once you are accepted at the institution.
 
Visit a financial aid officer or the student support centre at the institution to apply. The staff will explain what kind of financial aid you can qualify for and will tell you which documents must accompany your application form, for example your exam results, ID book, birth certificate etc. It can also include parents' salary slips, a list of income and expenses, and some other certified documents.
Apply well in advance for 2012
Many bursary application dates for Grade 12 learners wishing to study in 2011 have already closed. So, if you are in Grade 11, now is the time to start planning to apply for bursaries for your chosen field of study in 2012. The following companies offer bursaries for 2012. You will need to apply in 2011 to begin studying in 2012.
Vodacom
Vodacom offers bursaries in Information Technology, Information Systems, Computer Science, Electrical or Electronic Engineering and Computer Engineering.
Applicants must be citizens or permanent residents of South Africa. They must get a C symbol or higher for Mathematics and Physical Science (Higher Grade) in Matric. Applicants who plan to study at a University of Technology, must have a Level S for Maths and Science and those applying to study at Universities must obtain a Level 6 for Maths and Science.
For more information, contact Career Wise on 011 484-7505 or www.careerwise.co.za.
Old Mutual
Old Mutual offers bursaries for the following: Accounting and Actuarial Science. The Accounting Bursary covers full costs of tuition, residence fees and book allowance at the University of Cape Town and Stellenbosch University. You will need to obtain a 60 per cent or a level 5 for Mathematics and English. Applicants will need to commit to the CA Training Programme and once graduated will have to work for Old Mutual for a specific period of time.
The Actuarial Bursary covers all tuition costs, accommodation, meals, book allowance, travel allowance and lots more incentives. You will need an A or B grade for Mathematics and all grades to apply.
For more information Contact Babalwa Mgoduka on 021 509 2656.
For more information on the National Student Financial Aid Scheme (NSFAS), contact the university or college where you have been admitted for further study.