Youth
The South African National Association for Specialised Education (SANASE) is an association of school governing bodies for special education. The association, which had its annual general meeting in August, plays an important role in education for children living with disabilities.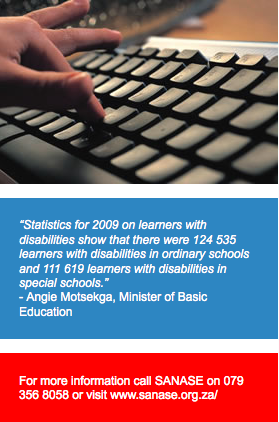 Basic Eucation Minister, Angie Motshekga has thrown her weight behind SANASE. "Our first priority is the future and wellbeing of the learners," Motshekga said at the SANASE Annual General Meeting held in Cape Town. She noted that government has taken many steps to protect the fundamental rights of children, including children living with disabilities. These include the White Paper 6, Special Needs Education: Building an Inclusive Education and Training System.
Wheel chairs
The White Paper (a parliamentary paper explaining government policy on a specific issue) has provided plans for developing a system where children with disabilities can be accommodated into mainstream schools and to increase access to quality education for children with special learning needs.
Government's plans to help learners with special needs include much-needed equipment like wheelchairs. Equipment have already been distributed to hundreds of children enabling them to access education and to become better integrated into society. For example, many children who could not walk had to be carried around by their parents and could not attend school. They have now been provided with wheelchairs and can attend school.
Sign language
The department has also established a Curriculum Management Team for the development of the South African Sign Language curriculum as a subject. The curriculum is being developed for implementation in 2012.