2010 World Cup legacy
Before the 2010 FIFA World Cup, many people feared that crime would be out of control. But thanks to improved security measures, there was a marked drop in incidents of crime during the tournament. Government has promised to build on the best security practices used during the tournament to safeguard South Africans and visitors in the future.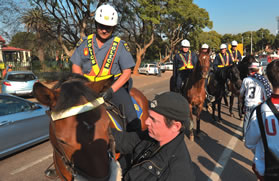 Many South Africans, visiting football fans and tourists said they felt safe as they moved around the country at all hours during the World Cup tournament.
The South African Police Force is committed to take forward the best practices and lessons learned during the World Cup to strengthen its crime-fighting programmes.
Minor crimes
More than 3 million football fans attended matches during the 25 match days. Of the 704 crime-related incidents report- ed to the police during this time, the majority were for minor crimes like theft of cellphones.
These incidents were reported within 1,5 kilometres outside the various stadia. In addition to the stadia, a total of 1 270 million fans attended public viewing areas on match days. Inside the public viewing areas, only 76 incidents of crime were reported to the police.
Arrests
The Police Department said a total of 1 002 case dockets were opened and investigated by dedicated police detectives throughout the country. Half of these (558) were finalised by mid-July and more than 440 arrests were made.
Of those arrested, 266 were South African citizens and 181 were foreign nationals.
Skills upgrade
Police Minister, Nathi Mthethwa, said the 44 000 police officers who were appointed specifically for the World Cup, are now working at various police stations to fight crime. Vehicles and other specialised equipment bought specifically for the football tournament are also available to them.
In addition, the Police Department is involved in an ongoing skills upgrade programme for police detectives to ensure that more criminals are convicted.
Co-operation
Mthethwa said the successful securing of the World Cup placed South Africa firmly on the list of tourist destinations.
He said this became possible owing to a committed police force, as well as the support and co-operation from other government departments during the World Cup.
Swift Justice to continue
Working closely with the police, the Justice Department will continue the best practices of World Cup Special Courts.
Justice and Constitutional Development Minister, Jeff Radebe, said the effectiveness of the Special Courts in handing out swift justice during the World Cup gave meaning to the saying: "Justice must not only be done, but must be seen to be done."
Radebe said the measures which worked during the month-long football tournament must be continued into the future. The 56 dedicated court rooms in the nine host cities consisted of 37 district courts and 19 regional courts.
The courts were set up to hear cases related to the World Cup. The main aim was to avoid delays in handling criminal matters arising from the tournament.