Written by Mbulelo Baloyi
Compliments from visitors to our country during the 2010 FIFA World Cup included the warm and friendly welcome they received from South Africans. Building on this positive feedback, government called on individuals and members of organisations to join hands and say "NO" to xenophobia.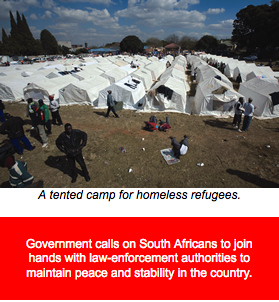 South Africans are well known for their hospitality and spirit of ubuntu. Unfortunately, a handful of people who show intolerance towards foreign nationals can spoil this image.
For this reason government acted swiftly and is educating the public to help control or prevent outbreaks of xenophobic violence. This followed widespread rumours that foreign nationals were to be attacked immediately after the World Cup ended.
Committee
In May 2008, outbreaks of violence against foreign nationals saw 68 people killed, half of them South Africans. Thousands also lost their homes. To prevent similar incidents of violence against foreign nationals, government restarted the Inter-Ministerial Committee on Xenophobia.
Police Minister Nathi Mthethwa is the chairman of the Inter-Ministerial Committee. In addition to the Police Force, the committee also includes the Departments of State Security, Home Affairs, Cooperative Governance and Traditional Affairs, Basic Education, Social Development, Arts and Culture and International Relations and Cooperation.
Immigration policy
Government said it took the threats as a result of rumours very seriously. It warned that people who were found to be in conflict with the law would be arrested.
Government is also reviewing the development and implementation of the immigration policy. This includes plans to ensure peaceful co-existence between South Africans and foreign nationals in the country.
Hotspots
As in all societies, there are some people who exploit any conditions to cause problems among communities and commit crimes. Some of these people had intimidated foreign nationals to commit common crimes. Government has taken measures to act against them.
To help ensure peace and stability in areas known as hotspots, the security forces patrolled the areas. The police and the South African National Defence Force were put on alert with the instruction not to tolerate any form of violent behaviour by individuals or groups.
United communities
Government calls on anyone who has information about threats or incidents against foreign nationals to report it to the police or community-based organisations.
All South Africans and foreign nationals living in the country are also urged to join in the efforts to build better and more united communities.
Let's all stand together and continue the spirit of unity and good will created by the World Cup