WINNING LETTER - Take responsibility for your education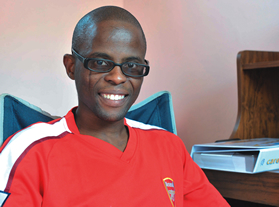 Our matric pass rate has been declining since around 2003. As much as most people blame the Outcomes-based Education (OBE) system, I think students need to take blame as well and take responsibility for their education. How can a student pass when he or she is studying and at the same time listening to an iPod? If it's not an iPod, its mxit, facebook and other social media networks. The fact is that most students are hooked on these social media networks. I have personal experience, because last year I almost failed my final year of tertiary because of chatting. My advice to parents is to refrain from buying their kids web-enabled phones until the child finishes matric and gets good grades. These are the things that also make it easy to access unsuitable adult material which contaminate their minds while they are still young
- Neo Mokgotho, Soweto, Gauteng
Never fail to think
Many young people think that if they come from poor families, they must stay poor for the rest of their lives. Many young people are intelligent, but fail to think what's best for them. They leave school because they feel that if they finish matric no one will fulfil their dreams. Don't forget that your future is in your own hands; no one will change your situation but yourself. Education is your parent and a key to success. Stand up and fight for your future because time wasted is never regained.
- Mapara Sylvia Lebogang, Ga-Ramokgopa, Limpopo
Booze is no solution
Alcohol and drugs will not bring any solutions to your challenges. They create problems which were not there before, while hiding the problems you should face. Alcohol and drugs will not solve your problems or give you joy. Soon you will be back to reality and find that you have a hangover, too! It will be easier to face your problems and find solutions when you are sober. Let us be sober as we face life and its challenges.
- Norman Mahlangu Weltevrede, Mpumalanga
Get out of the dark
Dearest and fellow South Africans, our president has started this war against HIV. Let us show our support to him. He was tested in public. We have the rights to be tested in private, yet we are still against the testing process. It is better to know your status sooner than later, so let us get out of the dark and get ourselves tested. Knowing your status will surely lead you to finding better ways to live your life.  
- Sandiso Matiwane, Nqamakwe, Eastern Cape
Don't reject your talents
People are talking about poverty and lack of employment. The problem is that they have been taught to work for other people and not to do things for themselves. People are depending on government for everything, they wait for years to be employed by government or they have babies to get government grants. Every person has a gift or talent, but some choose to reject their talents. If unemployed people can learn to use their talents, they can win the fight against poverty. Government must take all the artworks done by prisoners and sell it to the world.
- Tshepo Lucas Segole, Carltonville, Gauteng
The best gift ever
Having the best mother was the best gift I have ever had in my life. Regardless of being single, she managed to raise us on her own. Regardless of her illiteracy, she laid a foundation of manhood, education and success in my life.
I am determined to complete that foundation in my life and thank her while she's still alive. I therefore call on all single parents to raise their children in love. However, do not let your singleness deprive your children of education or a future.
- Mothupi Inagane, Amalia, North West
Inspired to do better
Vuk'uzenzele has inspired me to be the best I can be. It has opened lots of opportunities for many people. Every single thing and word you published in your magazine is very useful. I have gained a lot of knowledge and passion about writing ever since I started reading the magazine in 2008 and I've been selected to do an internship at a local newspaper.
I have you to thank, you have inspired me to do better. Thank you Vuk'uzenzele!
- Barbara Luvhengo, Nzhelele, Limpopo
A mentor and teacher
Thank you for being my mentor and teacher. Vuk'uzenzele does not only inform us, but educates us as well. As a teenager, I live a very happy life because you teach us about life skills in the magazine. Out of all the magazines we receive, you are number one. Keep on serving and educating the nation. Dankie Vuk'uzenzele!
- Mphou Nando, Thaba Nchu, Free State
My source of information
It's good to read Vuk'uzenzele magazine and being able to share my views with other readers. It has a lot of information on important topics like health and education.
We were given research about alcohol at school and some students paid money to get the information at the Internet cafe. I consulted my computer called Vuk'uzenzele, which is free of charge, and wrote the best research ever. Thank you for being my computer! .
- Ntomboxolo Priscilla Mzobe, Highflats, KwaZulu-Natal
The World Cup red-carded xenophobia
The World Cup had a positive impact in uniting different countries and nations and seemed to have bridged the divide of xenophobia. It proved that xenophobia is something bad we don't want to repeat. 
They took South Africa out of the World Cup, but they didn't take the World Cup spirit out of South Africa. That is why we continued to celebrate and attend matches at the stadiums until the last match.
Let us continually take care of each other and our beloved country as we did during the World Cup.
- Vusi April Jiyana, Bundu Inn, Mpumalanga
WRITE TO:
Vuk'uzenzele, Private Bag X745, Pretoria, 0001, or e-mail: vukuzenzele@gcis.gov.za.
If you don't want to have your real name published, you may use a different name, but you must include your real name and address in your letters to us.
PLEASE NOTE:
To win a prize, you must include a physical address and a contact telephone number in letters to us.
Some letters are edited and shortened for publication due to a lack of space.