Focus on the provinces
The National Department of Human Settlements in partnership with Ditsobotla Local Municipality in the North West province and the National Home Builders Registration Council (NHBRC) has launched a project to empower women, called Women's Build 2010.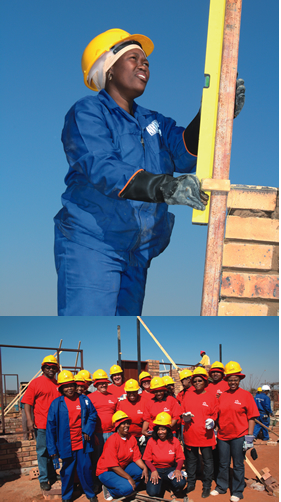 Women's Build was launched by North West MEC for Human Set- tlements, Desbo Mohono on 24 August. It is a Letsema Project to commemorate the historic 1956 women's march to the Union Buildings to protest against the apartheid government's unfair pass laws.
North West province
This year's building project is hosted in North West province in the Tlhabologang Township of the Ditsobotla Local Municipality.
The Province has allocated 1 956 housing units in five districts to women contractors to commemorate the march.
The beneficiaries of the housing units include elderly people, women-headed households and people with disabilities. Women's Build will run from August to September.
Support
During the weeks of building activities, 54 housing units where constructed to celebrate the 54th Anniversary of the women's march. This is part of existing projects of 135 housing units.
Various government departments and agents, as well as stakeholders from the private sector, have pledged their support to partner with the department in creating sustainable human settlements. At least 100 community volunteers participated in the building project.
Granny (109) finally gets a house of her own
Human Settlements Minster, Tokyo Sexwale accompanied by the North West Premier Maurine Modiselle and the provincial MEC for Human Settlements Desbo Mohono, handed over a house to 109-year old Mmami Motlhokwa in Coligny in the Ditsobotla municipality. The house is one of 54 houses constructed as part of the National Women's Build Programme.
Mmami has never owned a proper house before and has been staying with her children and great grand children in a two-roomed house. She said the secret behind her age was prayer, respect and eating healthy food.
Sexwale appealed to beneficiaries to stop building shacks next to the new houses. "We would like to turn this small area into a proper human settlement where people would live, learn, relax and pray", he said.
Minister Sexwale delivered a strong warning to contractors who continue to build shoddy houses for the poor and engage in corrupt practices. He said about 2 000 contractors have already been arrested countrywide and their bank accounts have been frozen to allow government to recover its money.
Mohono, said an audit was currently underway in the province to determine the number of houses that were not properly built and which needed to be fixed.
For more information, call the Department of Human Settlements (North West) 0182 3912 0420/211