Education empowers
What do you want to be when you grow up?" This is a question children hear from a young age. Making a career choice is one of the most important decisions a learner makes. It is therefore very important that learners have the necessary information and advice before deciding what they want to do. The Department of Higher Education is going all out to help young people make the right choices.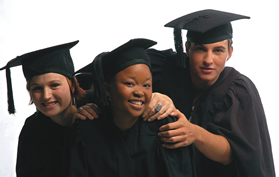 As part of the Mandela Day activities in July this year, the Department of Higher Education and Training, launched a Career Guidance Campaign in Giyani, Limpopo. The Campaign is aimed at giving information about post-school options to high-school learners in rural areas.
Rural areas
More than 1 000 high school learners received information and advice. This included different opportunities for higher learning and skills development to help them make a career choice best suited to their abilities and interests.
Community service
During the launch of the campaign, a number of personalities and prominent South Africans pledged to serve their 67 minutes of community service for Mandela Day by providing career advice to high school learners.
The Department of Higher Education and Training aims to encourage people in the higher education and training sector, as well as other professionals to assist high school learners with information. This includes information on universities and colleges, course programmes, financial aid, bursary schemes and training opportunities.
Prepare for life
Information and guidance about the range of post-school opportunities will help learners to better prepare for life after school and lead to less drop-outs and improved employment prospects.
After finishing matric, many young people must choose a career path. To help them, the South African Qualifications Authority (SAQA), which is part of the Department of Higher Education and Training, started a career helpline in July this year.
All ages
Although the helpline is aimed at young people seeking career and study advice, it is also open to people of all ages who need career advice. These include learners who have to choose school subjects, school leavers wanting to study further, or working people wanting to switch to different careers. A team of trained career guidance counsellors is in place to help them.
Resource
In addition, the helpline is also a resource for career guidance counsellors or anyone else who provides career advice to learners. The helpline is based on a lifelong learning framework and on the values of equal opportunity and social justice.
You can contact the team of career guidance counsellors at the Career Advice Helpline by phone, SMS, website, e-mail, letter, or in person. Tel: 086 0111 673; e-mail: help@nqf.org.za website: http://www.nqf.org.za Postal Address: Postnet Suite 248 Private Bag X06 Waterkloof, 0145