Written by Samona Murugan
Role model
My life has always been an uphill struggle, says 28-year old, Sheri Brynard from Bloemfontein. But this did not stop her from achieving her goal to become a teacher and work with children. Sheri was born with Down syndrome and from a young age she was a slower learner than most children her age.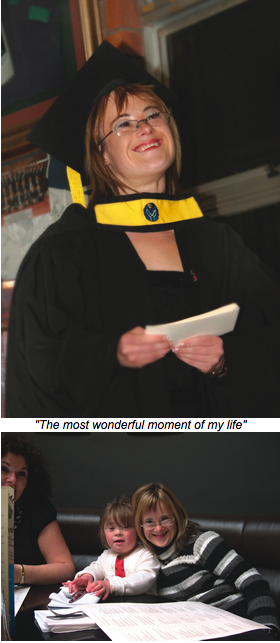 In May last year, Sheri Brynard received her diploma in Educare from the Motheo College in Bloemfontein, making her the first person with Down syndrome to graduate from a tertiary institution in the country.
"Getting my diploma was not an easy path," says Sheri. "At school and at college there were only normal children and I looked and learned differently from them. I wanted to fit in, so my mother told me to look at what normal children did and try to do the same."
There were many times when Sheri didn't want to be a person with Down syndrome. "I wanted to be able to do all the things my friends and sisters could do."
"My family and I never focused on my disabilities; we focused on what I could do. I am different and I am proud of that."
Determination
With a lot of hard work and determination Sheri reached her goal. Samona Murugan"Wearing the graduation robe and receiving my diploma was the most wonderful moment of my life. For the first time I was happy being a person with Downs," says Sheri.
"Now I want to make people with Down syndrome aware of their rights and make them speak out and achieve their potential."
Inspiration
Sheri says she was inspired by Nelson Mandela. "I felt his courage and strength. He was in jail for 27 years and I have felt like I have been in a jail of my own, because I could not always do or say what I felt."
After hearing him say, "You are the master of your destiny and the captain of your soul", Sheri realised that she could not change her circumstances, but she could change the way she looked at them.
Since graduating, Sheri has been a role model for people with and without Down syndrome. She is now an inspirational speaker and motivator and has started the self-advocacy movement in the Free State.
What is Down syndrome?
Down syndrome is a condition in which a child is born with an extra chromosome (chromosomes carry the genetic material of most organisms). Having an extra chromosome affects the way a child develops, both mentally and physically. About 1 in every 800 babies are born with Down syndrome. They usually do not grow their full height and have some health problems, but it varies from person to person. Health problems associated with Down syndrome can be treated. Down syndrome cannot be prevented, but it can be detected before a child is born.
For more information, call 0861 369 672 (0861 DOWNSA) or visit: www.downsyndrome.org.za/