Written by Hlengiwe Ngobese
The country's largest social housing project, located in Westgate, KwaZulu-Natal, comprises 952 housing units that offer rental accommodation.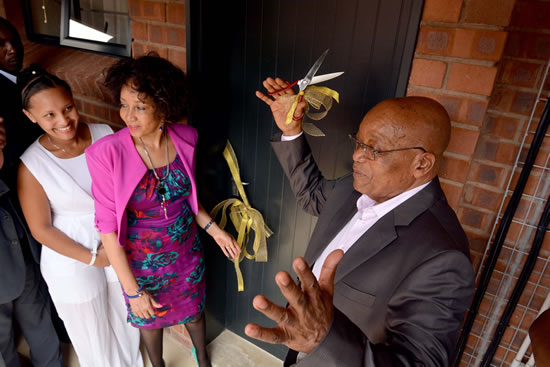 When President Jacob Zuma handed over a new house to Caroline Carstens, 20, the Westgate resident could not contain her joy and said government has fulfilled her dream of raising her children in a decent house.
"It has been my dream to own a decent house one day, but I never thought this dream would come true so soon. Thank you to government for providing us with these decent houses," she said.
Carstens is one of the 3 000 beneficiaries who were handed over new houses when President Zuma opened the country's biggest social housing project in Westgate, Pietermaritzburg, in KwaZulu-Natal on 1 April 2017. The project is expected to cost close to R353 million, which includes funding from the private sector.
Another beneficiary is Nomkhosi Msimang, 30, who works as a student nurse at Grace Hospital. She said when she got a text message congratulating her and informing her that her application had been successful she could not believe it.
"My God! Today, I'm now holding keys for my house. This government is really improving the lives of South Africans. I heard about this project at the community meeting and I said to myself 'let me just take a chance and apply'. I never thought you could get a house from government if you are not connected, but I got it. I didn't pay a cent to get this beautiful apartment. They just needed a payslip and proof of residence to apply. I thank the government for changing my life," she said.
Westgate launched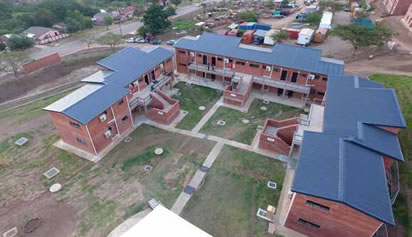 Speaking at the Westgate social housing launch President Zuma said on completion the project will deliver close to 1 000 housing units, accommodating close to 4 000 beneficiaries.
"In the State of the Nation Address in 2010 and 2012, I spoke about middle income workers who struggle to secure decent and affordable accommodation for themselves and their families because they neither qualify for fully subsidised housing nor bonded houses.
"The construction of the Westgate Social Housing Project is a direct response to such challenges. It provides an opportunity to our working youth to live in decent and well-located accommodation, while promoting social integration and deconstructing the apartheid spatial master plan.
"This project is 100% rental stock, catering for people earning a household income of between R1 500 and R7 500. It consists of two-bedroom units, each with an open plan kitchen and a lounge.
"We are a government that will never rest until every South African citizen lives in a decent shelter. Our resolve is to restore the dignity of our people through human settlements," said President Zuma.
New townships across SA
President Zuma said government will continue to prioritise housing delivery for indigent people. These include child-headed households, the physically disabled and elderly citizens.
"I was also touched by one courageous and physically challenged Mr Maphumulo from Vulindlela, when he was taken to his newly built house. Having a decent shelter presents a number of social and economic benefits. These include improved quality of life, personal and private space hardly experienced in a one-room shack, a secure environment and tenure rights.
"The KwaZulu-Natal provincial government has built close to 500 000 units since 1994. This translates to close to two million beneficiaries whose lives have changed for the better by this government. Housing delivery since 1994 has seen a number of new townships established across the country. These include areas like Cosmo City in Gauteng, Klarinet in Mpumalanga, Cornubia in KwaZulu-Natal, Zanemvula in the Eastern Cape and N2 Gateway in the Western Cape. In addition, a number of previously disadvantaged rural communities have also benefited immensely. One key housing project that has changed rural communities socially and economically is Vulindlela in Pietermaritzburg, which is expected to deliver over 20 000 housing units on completion, offering over 100 000 residents a decent shelter. However, there is still more that needs to be done," said President Zuma.
President Zuma encourages the beneficiaries to value their houses.
"These houses belong to you. I am pleading with you to not sell your house.  We have noticed some disturbing trends where government housing beneficiaries sell their houses and then become indigent again. You must know you only have one chance to qualify for a house. If you sell it, you will not get a chance to re-apply," he said.