The City of Ekurhuleni is developing infrastructure, making land available for housing and also undertaking the construction of six mega housing projects to improve the lives of residents of the municipality.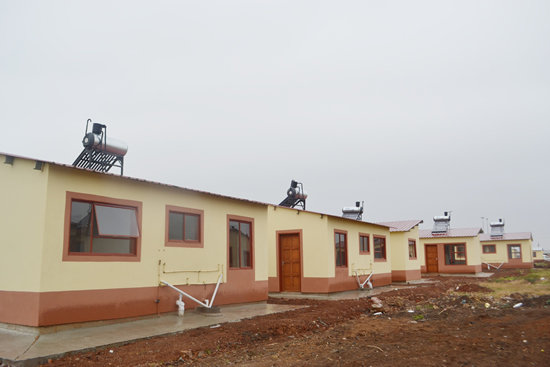 The City of Ekurhuleni will embark on building six major housing projects in the next five years in response to the housing and human settlement needs of the people of Ekurhuleni,.
Mayor of Ekurhuleni Mzwandile Masina says the project will be done in partnerships with other stakeholders. 
"The city, working together with the provincial and national governments as well as private developers, is embarking on six mega housing projects over the next five-year period to respond to the housing and human settlement needs of our people."
Masina added that the municipality is working hard to secure additional land to provide bulk services to four housing settlements.
"In pursuit of this objective, we have secured and are in the process of securing more land to enable us to provide bulk services for housing settlements like Leeuwpoort, Clayville Ext 15, John Dube, and Daggafontein."    
He added that the city would deliver approximately 5 000 housing units and an additional 8 000 units in the 2017/18 financial year.
In response to the so called 'missing middle' segment of citizens, the municipality will make land available to people who can afford to build housing themselves.
The "missing middle" refers to those people whose earnings are too high for them to be eligible for a RDP house but too low for them to secure a housing loan (bond) from a bank.
"We have made land available for people with economic means to build their own houses. We will provide the core services like sanitation and water infrastructure in these stands for individuals to only finance the building of top structures"
Upgrading road infrastructure
Road infrastructure is at the centre of economic development and facilitates the movement of people and economic goods. In this regard, the City of Ekurhuleni has completed the rehabilitation of 163 km of road.
Masina added that more roads in the City of Ekurhuleni would be upgraded. "We have set aside R270 million for upgrading 52 kilometres of road and (an) R83 million budget for the reconstruction of 15 kilometres of road.
"In continuing to integrate our townships and stimulate business, the City has invested in rehabilitating the road between Vosloorus and Katlehong which serves as an upgrade link between the two townships."
Vosloorus and Katlehong have seen intense development and economic stimulation due to infrastructure development.
"We have set aside R663 million for the construction of new roads. About 49 percent of that expenditure will go to the far east region that covers Duduza, Tsakane, Nigel, Springs, Daveyton and Wattville among others," explained Masina.
Honouring OR Tambo
Following President Jacob Zuma's declaration that 2017 will be the year of Oliver Reginald Tambo, the City of Ekurhuleni will play its part in honouring the struggle icon.
Mayor of Ekurhuleni Mzwandile Masina says the municipality will have various programmes and events to honour and celebrate Tambo who would have been a 100 years old this year.
"All the events will be based on the attributes of OR Tambo and it remains our mission as a city to preserve his legacy so that more of our people can have a clear record of our history."
Among the events organised by the municipality will be the erection of a statue of Tambo. "We will construct and install a 9 m bronze statue as a fitting tribute and recognition of this great struggle icon at the OR Tambo International Airport in October 2017.
"We will develop an OR Tambo Narrative Centre precinct which will include the establishment of the OR Tambo library/Knowledge Centre. This will create opportunities and spaces for our youth to talk, debate, listen, explore and to learn from the wise heroes throughout the history of South Africa."