"Entrepreneurship must be part of the school curriculum. Young people must, from an early age, be encouraged to innovate and be problem-solvers.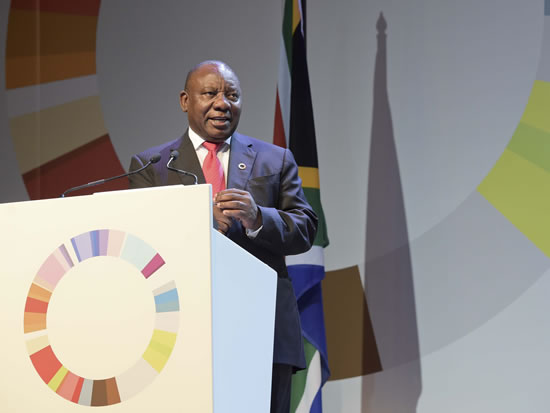 "They must be given the skills to turn ideas into viable businesses. Most importantly, they must leave school appreciating that entrepreneurship can be a viable career option," Deputy President Cyril Ramaphosa said at the annual Global Entrepreneurship Congress (GEC) held in Sandton recently. Past host cities have included Moscow, Milan and Rio de Janeiro.
The wide range of voices that came together at the GEC agreed that teaching entrepreneurship at school will arm young people with expertise and skills to establish their own businesses and create employment.
Entrepreneurs, investors, researchers, policymakers and other start-up champions from 173 countries came together for a week at the GEC to identify new ways of helping founders start and scale new ventures around the world.
Delegates make connections, gain insights, learn about new research, and leave ready to renew their programmes and policy ideas.
The GEC 2017 was hosted by the Global Entrepreneurship Network, the Sustainable Entrepreneur Accelerator (SEA) Africa and the City of Johannesburg.
Reaching potential requires support and cooperation
"We are all concerned that small businesses have an exceedingly high failure rate, and in our country the majority of the casualties are black and women-owned businesses. Statistics tell us that small businesses have limited chances of surviving their first few years," said Minister of Small Business Development Lindiwe Zulu.
"While many people have the aptitude to be successful entrepreneurs, our experience in South Africa is that many struggle to fulfil their potential without effective support," said Deputy President Ramaphosa.
"This is a deficit we are working hard to bridge. Through business incubation programmes both public and private we are moving beyond merely providing a desk and a phone and a coffee machine."
For small start-ups to succeed, Deputy President Ramaphosa said, government, small businesses, labour and the private sector needed to work together.
"As government, we are steadily opening up market opportunities for Small Medium Micro Enterprises (SMMEs), both through our own procurement spend and also through Black Economic Empowerment policies.
"Established business needs to take a similar approach if any of these efforts are to succeed. Effective monitoring and evaluation is also central to the effectiveness of small business support. There needs to be a clear link between effort, activity and results."
Intra-African trade
The GEC connects local entrepreneurs to the best resources and networks all over the globe.
Deputy President Ramaphosa said South African entrepreneurs should take advantage of this congress and establish relationships with fellow entrepreneurs from the African continent. 
"This congress serves as an opportunity to enhance an entrepreneurial culture among our youth, women and people with disabilities. It must allow us to share new developments in start-up financing.
"Ultimately, we must foster an African Entrepreneurship Network where participants will collaborate well beyond this event in promoting intra-African trade."
"We invite entrepreneurs from our continent and the world to collaborate with entrepreneurs in this country to start sustainable, profitable businesses that will create jobs.
"We urge you, our creative and courageous entrepreneurs, to apply your minds to the challenges of our continent. Be with the children of Africa to realise the promise of freedom."
The Global Entrepreneurship Congress has a presence on various social media platforms, such as Facebook, Twitter, LinkedIn and Pinterest. Check out www.facebook.com/unleashingideas