written by Sulaiman Philip
New early childhood development centre will help prepare young children for primary school.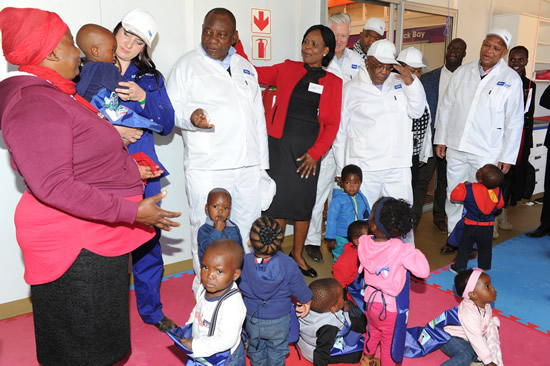 Children need to play. It is an important part of childhood development. A new early childhood development (ECD) centre in Mookgophong, Limpopo, will give the community's children the opportunity to learn through play.
The handover ceremony for the Ramadimetja Sophia Mogotlane Early Childhood Development Centre was incorporated into the area's Mandela Day celebrations.
As Deputy President Cyril Ramaphosa explained when he opened the centre's doors, "This will ensure that children meet the normative developmental milestones of being able to read, write and count when they start primary school."
Mammoko Ramokgopa, an early childhood development specialist in the Department of Basic Education said it was important that children get the best education and care at the very early age as this foundation becomes critical later in their lives.
"See it as building a house. If you don't get the foundation right, the house will not stand strong. It is therefore critical that we provide the children with the best care and education while they are still very young as this builds them and makes them better and stronger human beings later in their school lives and through to university," said Ramokgopa.
The construction was funded by pharmaceutical company Cipla and is an extension of a creche that was run from a shack in the 28 000-strong community.
Along with educational toys and playground equipment, the school offers its 105 children access to visiting health staff and age-appropriate computer training.
Meeting challenges
The informal school that gave rise to the new centre battled to retain trained staff and did not have appropriate play areas for the children, said principal Maria Molotsi.
She added that although the new facility had already had positive impacts, the community has insufficient ECD centres. "There are many children that have to stay at home while their parents work."
In addition, many little ones still come to school hungry.
But her facility is a beacon of hope. She explained that her school now has five teachers and a cook. Along with the educational and play opportunities, Molotsi has devised a menu that meets the children's daily healthy meal requirements. Previously undernourished children are now fed fresh vegetables from the school's own vegetable patch.
She is proud of the fact that when the children go on to primary school, they will be able to count, read, write and get along with others.
Molotsi has one expectation when the children leave her creche. "When they go to school, the teachers must say that the children from the Ramadimetja creche are bright and beautiful."