written by Sibusisiwe Mzila
The Department of Justice is building new magistrates' courts and high courts across the country, giving better access to justice services.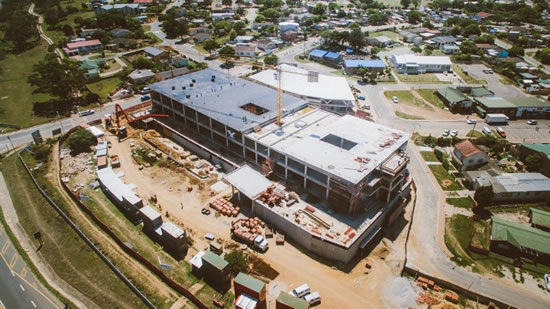 Residents of Plettenberg Bay in the Western Cape only have a few months to wait before they will be served by a new magistrates' court, doing away with the 64-kilometre journey from Plettenberg Bay to Knysna to access justice services.
The new court is necessary because the Western Cape has the heaviest case load on its district court rolls. It currently has 45 000 cases, with Gauteng following with
36 000 cases.
Deputy Minister of Justice John Jeffery recently visited the site to inspect construction of the court.
"I am happy with the progress. Everything seems to be working according to schedule," he said.
"Plettenberg Bay had a periodic court which only dealt with minor crimes. Now it is going to have a fully fledged court that will enable members of the public to report serious crimes."
The building will have 12 court rooms. There will be two sexual offences courtrooms, four criminal courts, two regional and two family courtrooms as well as a civil and an equality court. Over 30 000 people are expected to be served by the new court.
It will also feature state-of the-art security systems, a secure accused offloading area leading to the courtrooms, offices for magistrates and prosecutors, child maintenance and domestic violence facilities, ample public waiting areas and parking facilities.
Provincial high courts
In total, South Africa has 763 magistrates' courts and 13 high courts. Of these, 45 new courts were built in the past 20 years, mostly in previously underserviced areas.
The new Limpopo High Court opened the 2016/17 financial year. The Mpumalanga High Court, also the first high court for the province, is scheduled for completion during this financial year.
Another new magistrates' court to be completed this year is in Dimbaza, Eastern Cape, which is also being upgraded from a periodic court.
In Gauteng, the Justice Department is upgrading the Mamelodi Magistrate's office from a branch court to a fully fledged court. And in KwaZulu-Natal, the Port Shepston magistrates' court will be completed in September.
Over the medium term, the Department has allocated R6.2 billion for infrastructure development and maintenance, property leases, municipal services and accommodation charges across the country.
Sibusisiwe Mzila works in the Communications Unit in the Department of Justice.