As we begin to celebrate Women's Month, let's make South Africa a country where women can achieve their true potential.
In his message for the Year of the Women in 1984 Oliver Reginald Tambo said that one of the most important tasks of the liberation movement was the liberation of the women of our country from their triple oppression on the grounds of sex, class and colour.
We remember these forceful words this August. We celebrate this year's Women's Month under the sub-theme "The Year of OR Tambo: Women United in Moving South Africa Forward". In this 61st year since the historic women's march in 1956, we pay tribute to the brave women who confronted unjust apartheid laws over many years and in 1956 in particular for playing that important role in ushering in a democratic government. We also elevate, celebrate and draw inspiration from many women achievers in various sectors in our society.
Since the dawn of freedom, our government has been committed to improving the conditions of the women in this country, and has made very considerable strides in this undertaking, which also consolidates our democracy.
Accelerating economic inclusion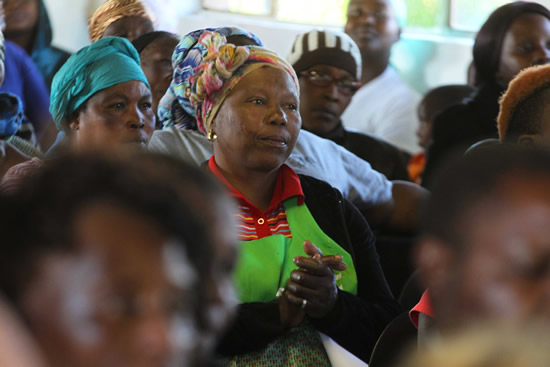 In various departments government is ensuring a particular deliberate bias towards women, as the majority section of our population, in the provision of business and other economic opportunities so as to accelerate the goal of economic inclusion. The Department of Small Business Development, in particular, has seized the opportunity to affirm women in the range of opportunities that it offers, but here, as in any sector, there is still a glaring need for more women to ensure fair representation and participation.
There are many opportunities in the agricultural sector, including the agro-processing supply chain, which are open to women. We urge women to be involved in developing food gardens so that we use the soil to produce food. Women should form cooperatives as well. Many such cooperatives already supply food for government's school food nutrition scheme, while many women also have opportunities to cook for children at schools and have an income.
Women also work in many of the Expanded Public Works Programme projects including repairing roads, looking after the sick as caregivers, and clearing vegetation. Government will continue to roll out these projects as part of alleviating poverty and providing skills to women. 
South Africa must be safe for women and children
This Women's Month we will also highlight the scourge of violence against women and children. This year has seen heightening incidents of women and child abuse, some very gruesome.
Through the 365 days campaign, we have made a year-in-and-year-out commitment to protect women and children from violence and all forms of abuse. South Africa must be safe for women and children.
Nobody has the right to attack women. We urge women to report perpetrators to the police, who have been instructed to treat such cases seriously and with urgency. Women must not tolerate abuse at home, in particular by husbands or partners. The silence must end. Family members must also not tell women not to report such. This is criminal and must be end.
Our democratic constitution, though the Bill of Rights, provides for gender equality. An important development is that our judiciary is also transforming to include more women. For example, of the 154 candidates who were appointed as district magistrates across the country in 2015, 90, or 59 per cent, were women. In April this year 48 senior magistrates were appointed, 48 per cent of them were women. Nationally, of the 1 570 or so magistrates in the country, 702, or 45 per cent, are women. Superior courts also have to ensure that they reflect this change.
In government, the legislature and civil service we have also made efforts to ensure gender equality and opportunities for people with disabilities.
As we begin to celebrate Women's Month, we urge everyone to participate in making South Africa a much safer place for women, and a country where women can achieve their true potential and use opportunities to create better lives for themselves.
Let us all support the programmes and activities that have been planned for Women's Month and move our country forward towards a better life for women and households.