Written by Sulaiman Philip
Mokgotho Temogelo Thami, Mmola Desmond Kutullo and Nkwane Wayne Luka have flown to Stockholm, Sweden, to represent South Africa at the annual World Water Week.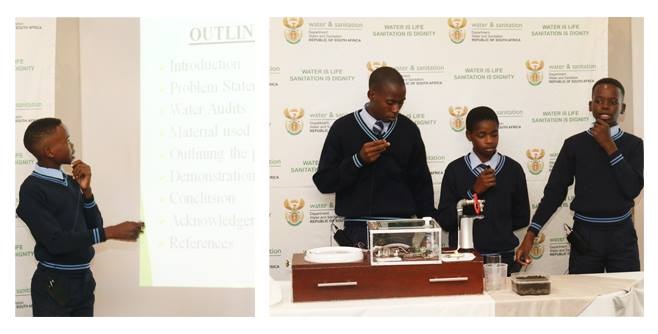 The grade 11 pupils at Lebeko Senior Secondary School in Phalaborwa were the national winners of the SA Youth Water Prize, held in Pretoria in June, and qualified to represent South Africa at the Stockholm Junior Water Prize.
This prestigious competition is open to competitors between the ages of 15 and 20 from 30 countries. Winners are chosen on the level of innovation their solutions show and the environmental, scientific, social or technological significance of their research or design.
The objectives of the competition are to raise awareness of the importance of conserving and protecting natural resources.
The SA Youth Water Prize is a Department of Water and Sanitation (DWS) educational outreach project called 2020 Vision for Water Education Programme.
Beyond its collaboration with the Stockholm Water Foundation, the department has partnered with the Department of Science and Technology to respond to the challenge of scarce skills.
Initiative and innovation
South Africa has won the Stockholm Junior Water Prize competition twice – in 2003 and 2005.
Judges have been generally impressed by the quality of South African entrants. South African entries, judges have pointed out, have always matched international entrants in terms of innovation. However, as a judge points out, "They are more focused on local issues, and more practically oriented than many of the other countries' entrants."
Their winning innovation, a device to help schools and their community to save water, also won them full bursaries from the DWS. Winners who accept the full bursary prize are encouraged to follow a career path in a water sector-related field.
Using a two-part system, the device discharges water when needed and only for a set time. The young innovators also added soak-away material to absorb leaking water that is then returned to the water tank.
The South African learners' prototype system was built with donated materials or supplies rescued from the trash.
On their return from Sweden, the Lebeko pupils will get to meet business and manufacturing partners who can turn their prototype into market-ready products.