Written by Dorris Simpson
Finance Minister Pravin Gordhan delivered the last budget of the current administration to Parliament recently, outlining how South Africa will pursue economic growth and an expand social services in the years to come.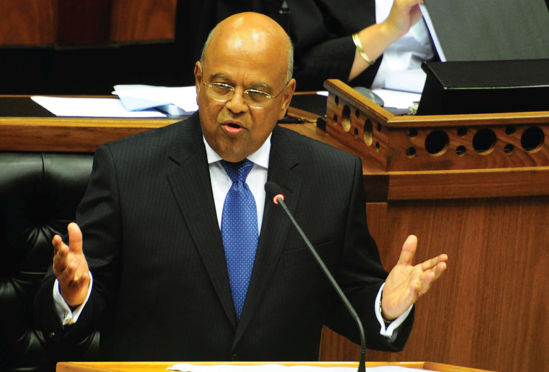 Tabling his 2014 Budget Speech in Parliament, Minister Gordhan said over the next five years government would focus its efforts on economic growth.
This would be backed up by plans to increase investment in electricity and transport infrastructure.
He added that increased spending on public infrastructure would encourage private investment, while stronger employment growth would contribute to increased household consumption.
20 years of achievement
The South African economy has transformed over the past two decades. The Minister said that despite the challenges the country continues to face, SA was a wealthier society today, with greater access to economic opportunities and reduced levels of poverty.
Some of SA's successes pointed out by the Minister include:
Since the introduction of the school nutrition programme in 2004, it has expanded and currently feeds 9.2 million school children daily.

In 1996, 19.1 per cent of adults received no schooling. By 2011 this number had decreased to 8.7 per cent.

The number of households with access to flush or chemical toilets almost doubled from 4.6 million in 1996 to over 9 million in 2011.

The number of households with access to piped water increased from 9.1 million in 1996 to 13.2 million in 2011.

Between 1994 and 2013 government built about 2.7 million homes.

South Africa runs the world's largest anti- retroviral (ARV) programme, with over 500 000 new patients put on ARVs annually.

The rate at which children under the age of one die has dropped from 45 per 1 000 live births in 1994 to 33 per 1 000 live births in 2012.
Improved housing
More than 12 million people now have a place to call home after government invested more than R100 billion in building new homes since 1994.
Social grants
The social assistance programme is government's most direct means of fighting poverty. Over the past decade, the number of social grant beneficiaries has doubled from 7.7 mil- lion in 2003/04 to 15.8 million in 2013/14.
The Minister also announced the amount paid to social grant beneficiaries would in- crease as follows:

Education and training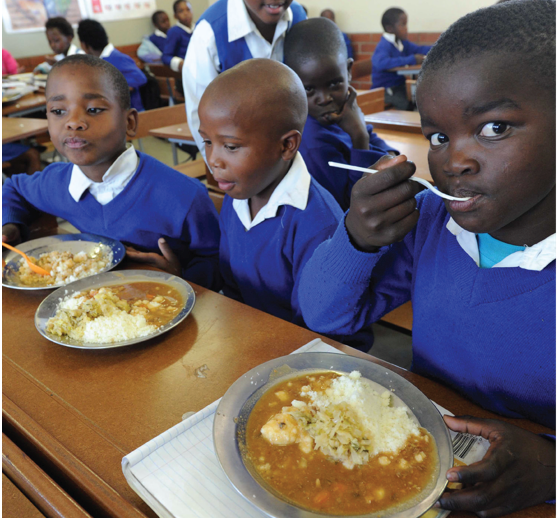 The Minister said government would rebuild 433 schools in the next three years. He pointed that 60 per cent of schools do not charge fees and this year, 8.8 million learners will have access to free education. Over the next three years, R78 billion will go towards university subsidies and R34.3 billion to building schools.
Housing
Six metros have been targeted for a new grant of R300 million per year to build their capacity to plan for integrated human settlements. Government has also set aside R899.2 million in 2014/15 for provinces to upgrade sanitation infrastructure.
Hospitals
The money spent on clinics, hospitals and com- munity facilities will increase to R9.4 million in 2016/17 from R9 billion in 2012/13. The priority will be refurbishing clinics and hospitals.
Sanitation improvements
Over the next two years, R1.9 million will be spent on eradicating the bucket system and R15.4 billion has been set aside for regional bulk infrastructure over three years.
On job creation initiatives, the Minister noted:
Since its launch in 2004, the Expanded Public Works Programme has created more than five million mostly short-term and part-time jobs. The next phase should create six million jobs.

The Community Work Programme guarantees participants work two days a week, or eight days a month, with a strong focus on generating local economic activity.

The Employment Tax Incentive launched in January 2014, subsidises the salaries of newly recruited 18- to 29-year-old workers.

The National Youth Service Programme trains youth to be artisans for the built environment.

Improving primary health care
The government provides primary health care free of charge and other health services at subsidised rates for poor South Africans. Over the next three years, government will:
Spend R77 billion on primary health care services and R240 billion on public hospitals.

Launch the Office of Health Standards Compliance in 2014/15 as an independent public entity responsible for inspecting health facilities.

Allocate R600 million for the introduction of the new Human Papilloma Virus (HPV) vaccine, which prevents cancer of the cervix.

Allocate a further R1 billion for the HIV and AIDS conditional grant in 2016/17 to continue the roll out of anti-retroviral treatment. A total of R2.5 million people are currently on treatment and 500 000 new patients are expected to join the programme each year.

Accelerate the provision of infrastructure in the pilot districts of the National Health Insurance. R19.3 million will be set aside for refurbishing clinics and hospitals and R1.2 billion for the contracts of general practitioners.
Fighting crime
Spending on defence, public order and safety will grow from R154 billion in 2013/14 to R163 billion in 2014/15

The South African Police Service will get R78.1 billon, Correctional Services R19.7 billion, courts R17.9 billion and the South African National Defence Force R47.9 billion.
Agriculture support
The Agricultural Policy Action Plan will support the NDP's target of creating jobs in the agricultural sector. Government will spend over R7 billion on grants to provinces to support about 435 000 substence and 54 500 small farmers.
Fuel levies
The Minister announced that the general fuel levy and the Road Accident Fund levy would increase by 12c per litre and 8c per litre respectively from 2 April 2014. This will push up the general fuel levy to R2.25 per litre on petrol and to R2.10 per litre on diesel.
Infrastructure development
Government is committed to investing in infrastructure that improves lives. In 2014, R11 billion will go to PRASA for new rolling stocks and the upgrade of signalling infrastructure.
Industry support
R10.3 billion will go to manufacturing development incentives, R15.2 billion has been set aside for economic competitiveness and support packages for business and R3.6 billion for job creation at special economic zones.