It's been two weeks since Thabisile Majola* came back home after spending almost five days in hospital. Her parents and younger brother are relieved to have her home.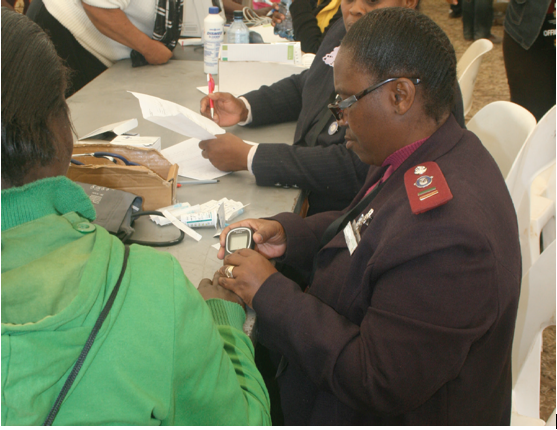 But a week later, at about 10pm, as her mother prepares to go to bed, she hears screams coming from her daughter's bedroom. At this stage, everyone knows it's time.
Majola's condition has suddenly worsened. And as her father speeds off to the hospital, everyone in the car wonders in silence whether she will be fine.
This was seven years ago, when Majola, 34, was at war with HIV.
The Durban resident was a regular visitor to hospitals. At that stage, she was not eligible for anti-retroviral (ARV) treatment because her CD4 count was at 300. At that time the lifesaving treatment was only available to patients with a CD4 count less than 200.
Majola's family had given up hope that she would ever recover. But her situation started to change in 2009, when, on World AIDS Day, President Jacob Zuma announced life-changing policies related to HIV and AIDS and the country took a new direction in the fight against the disease.
Like many others, Majola saw a number of people including friends and family succumb to HIV. This, she says, was mostly due to lack of access to treatment and information about the disease.
"My brother contracted HIV in the early 90's and at the time we didn't know much about the disease except that one got it by sleeping around with multiple partners.
"Because of the stigma attached to the disease, he never disclosed his status. Only my parents knew but they were in denial and chose to believe that he had been bewitched by our neighbour."
In 2003, HIV hit the family again. This time, it was Majola's sister. She tried to fight the disease by taking immune system boosters but without access to ARVs, she became weak and ill. By the time she was finally eligible to take the treatment, it was already too late. She lost the fight the following year, at the tender age of 20. Since 2009, government has turned the tide in the fight against HIV. People like Majola say the ARV and prevention of mother-to-child transmission (PMTCT) programmes have had a profound impact on the health of South Africans living with the virus.
Policies the current administration announced included that HIV positive people with a CD4 count of 350 or less could receive ARV treatment. Pregnant women who have the virus, regardless of their CD4 count, now have access to treatment. Women are also put on treatment at 14 weeks to protect the baby.
The number of people on ARV treatment has increased from 923 000 in February 2010 to a staggering 2.4 million in 2013.
Health facilities providing ARVs increased from 490 in February 2010 to just over 3 500 public facilities in 2013.
And government seems to have realised that the stigma, which is still associated with HIV, is probably the greatest danger in the fight against the virus.
With this in mind, government launched the HIV Counselling and Testing (HCT) campaign in April 2010, which has reached over 20.2 million South Africans.
The good news is that HIV prevalence among youth between the ages of 15-24 has decreased from 9.7 per cent in 2009 to 8.5 per cent in 2013. The country has also made progress in the PMTCT programme. Nationally, there has been a significant reduction in mother-to-child transmission of HIV from about 8 per cent in 2008 to 2.5 per cent in 2012. As a result, more 100 000 babies were protected from HIV infection.
Without the programme, people like Majola and her child would not have survived.
She knew about the programme because the health professionals at the clinic where she collects ARVs encourages people to come forward immediately if they suspect they are pregnant. "The minute I became aware of my condition, I informed them and was put on the programme. My boy was born HIV negative and is very healthy.
"I followed all the instructions I was given after giving birth to my son and that saved his life … the experiences I went through at the time made me appreciate life more."
Some HIV patients default in their medication because of the amount of pills they have to take a day.
In April last year, the national Department of Health introduced the Fixed-Dose Combination (FDC) of ARVs. The FDC is a combination of all three ARV pills - namely emtricitabine, efavirenz and tenofovir. It allows those on treatment to take one ARV pill a day instead of three or more tablets.
It was first administered to all newly diagnosed patients that were eligible to be put on ARV treatment, pregnant women and HIV positive breastfeeding mothers, and later rolled out to all patients on ARV treatment.
Majola started with the FDC in November last year and says it's much better than taking three pills. Her CD4 count is now over 400 and she feels stronger each day.
"I know that HIV will never destroy me, not as long as I have my treatment. It ended with my brother and sister, I refuse to be the next statistic," she adds.
Majola has now intensified her fight against the disease.
She is speaking to young people about the importance of abstinence and safe sex and is looking forward to the day when she believes this country would have a new HIV infection rate of zero.
*Not her real name.