Adolphina Mojatau's life has changed dramatically over the past couple of years, ever since she started working at the Granfield Chicken Farm Abattoir.
In the year and a half she has been at the abattoir, Mojatau has benefited from a number of skills development programmes and climbed up the ranks.
"In such a short time, I have been promoted three times. This is not a company that one enters as a general worker and stays put for years at that level. The opportunity for growth is endless. That is what motivates me and allows me to inspire others working here," she said.
The mother of two is now a quality supervisor.
"I am very proud of what I have achieved and I am grateful to be able to work on a project that ensures the best quality for our consumers."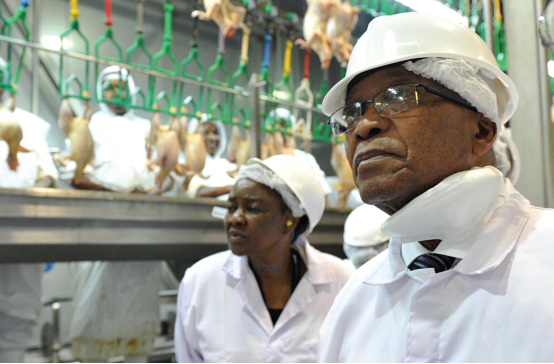 Granfield Chicken Farm Abattoir is a job creation project that is improving the lives in the Free State community of Reitz.
The project, co-funded by the Department of Labour through the Unemployment Insurance Fund (UIF) and the Industrial Development Cooperation (IDC), will see millions pumped into creating jobs and rural growth within the province.
As part of celebrating what the country has achieved over the past two decades, President Jacob Zuma recently visited the project.
"We are currently taking stock of achievements scored in the past 20 years, with a focus on how the quality of lives of South Africans has improved.
"We have made a lot of progress in improving the quality of life and South Africa is a much better place now than it was before 1994. Last year more than 650 000 jobs were created - this means that progress is being made," the President said. 
South Africans must make the most of government programmes and other economic opportunities that come their way to create a better life for themselves, said President Zuma. Many South Africans have already done so and are the faces of that emerge in the many success stories to come out of the country in the past 20 years, he added.
Granfield Chicken Farm Abattoir is one of the 205 business initiatives assisted by government, the UIF and the IDC, to support job creation and job retention.
To date, government has invested R350 million in the project, with UIF and the IDC contributing R65 million and R23 million respectively.
Thanks to the funding, in just two years the project has managed to increase its capacity from producing only 9 000 chickens a day in 2012 to a staggering 130 000 chickens a day. The abattoir has also created 1 047 jobs for locals.
"This is great news for many families in the area," said President Zuma.
According to the President, the funds for the project were made available through the UIF and the IDC bond, which was launched in April 2010. The bond, with an initial investment of R2 billion, was created to provide relief to workers who had lost their jobs due to the economic recession in 2008 and help workers find new employment. Through 205 business initiatives, the bond has created 22 263 new jobs and saved 20 288 jobs.
"It is a remarkable story indeed for our country. It is amazing that a recession can actually be turned into an opportunity for growth and development," he noted.
Due to the demand for assistance from the UIF and IDC, an addition R2 billion bond was allocated. More than half of the second bond will be dedicated to creating jobs in Mpumalanga, North West, Free State, Eastern Cape, Northern Cape and Limpopo.
President Zuma added that the abattoir project had been innovative and had not relied on government to start it. He explained that government stepped in with funding and technical assistance at a later stage.
"This culture of Vuk'uzenzele - of people doing things for themselves - must be promoted countrywide so that we can build a truly prosperous society," he said.
According to Granfield's managing director Sas Kasselman, what makes the project a success is the fact that employees are also beneficiaries of a 23.1 per cent stake in the abattoir. "This makes the project's success a personal success for the beneficiaries as well. It creates a social responsibility among employees," Kasselman explained.
Skills development is also a crucial factor in the success of the abattoir. Through the employment training and development programme, workers at the abattoir are trained and promoted continuously.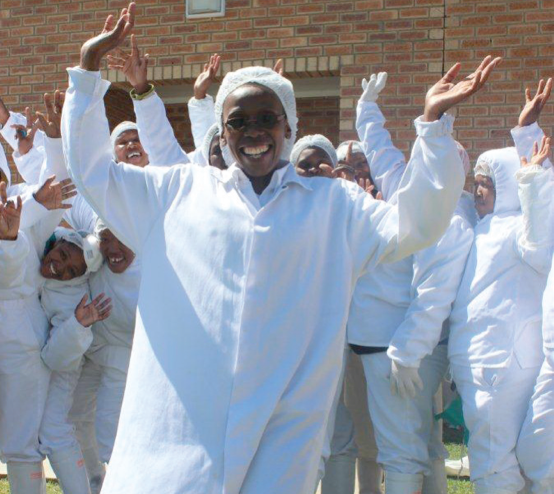 "Job growth and skills development sharing is extremely crucial to the growth of any project of this magnitude. We ensure that employees on various levels are trained and they in turn share their training and transfer skills learnt to their fellow workers. It is a continuous learning environment at the abattoir," said Kasselman.
Mojatau is testament to this and is proud of the work she does at the abattoir.
She explained that a typical day means going through almost 50 000 chickens during the day shift and another 50 000 on the night shift.
"My team makes sure that every chicken that enters our receiving bay undergoes an anti-mortem. This is where we check that the chickens have no diseases and are healthy for consumption. It is a tough job but we have to ensure that South Africans get the best quality product on the shelves," she said.
To date, Mojatau has completed various training programmes in health and safety, food safety management, hazard training, meat inspection and examination, internal audit and administration.
Due to her success in these, she is also an internal training officer and shares her skills with new employees at the abattoir. According to Mojatau, many South Africans, especially those in the rural areas, do not know much about the poultry industry and the opportunities it offers.
"Government is providing so many opportunities but people cannot sit back and wait for a job to fall into their laps, they must be active and open to new challenges," she said.
Those who took on new challenges at Granfield Chicken Farm Abattoir have helped it become a successful business that supplies local and neighbouring markets as well as big retailers such as Pick n Pay and Shoprite.