Written by Cecilia de Vos Belgraver and Amukelani Chauke
 President Jacob Zuma says government is working hard to protect South Africans against the effects of the negative global economic downturn on the local economy.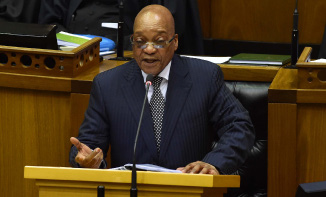 He emphasised that despite the economic challenges, government remains pro-poor and intent on making life better for all, especially for the poor and the working class.  
"We have taken concrete measures to reduce the negative impact of the economic downturn of our economy and to prepare for robust growth when the economic cycle turns positive.
"We are also working hard to remove domestic impediments to growth."
The President said this during The Presidency Budget Vote in Parliament recently.
Growing the economy
Part of government's efforts to reignite growth and build a better life for all includes implementing the Nine-Point Plan which aims to boost economic growth and create jobs.
"Energy is high up on the agenda. During last year's Presidency Budget Vote debate our country was facing an acute energy challenge. We have made remarkable progress since then," said President Zuma.
He added that the Ingula power plant will soon add 330 megawatts of electricity to the national grid and in five years' time South Africa will have surplus electricity. A renewable energy project for South Africa worth US$180 million was recently approved by the BRICS Development Bank, which will have its African Regional Centre in Johannesburg.
"Most importantly, there has been no load shedding for close to a year now. It is clear that the decisions and steps we took are beginning to bear fruit."
Developing infrastructure, creating jobs
Government is also using infrastructure as a key instrument to create jobs and to build a better life for all.
"Through the Presidential Infrastructure Coordinating Commission, we have made tremendous strides in fast tracking infrastructure across the country.
"In the past year, we can count the building of 160 new schools, 29 new clinics, the connection of 245 000 houses to electricity and building close to 150 000 new houses. The construction of three universities, 12 technical colleges as well as courts is on-going," said President Zuma.
He added that the construction of economic infrastructure is also continuing through the delivery of rail, road, dams, bus rapid transit systems, refurbishing ports, building boats and also the three new power stations.
"South Africa is a nation at work, with government leading the way, in building a better life for all."
Progress on Operation Phakisa
Government launched Operation Phakisa in the Oceans Economy in Durban in 2014, followed by Phakisa projects on the Ideal Clinic and basic education, focusing on information and communication technologies. Phakisa Mining will be launched soon.
Through Operation Phakisa government aims to implement its policies and programmes better, faster and more effectively.
 To date  much progress has been made.
"In less than two years we have invest-ed billions of rands in infrastructure development."
These investments include: Transnet's National Ports Authority's R7 billion allocation for port infrastructure, R3.6 billion investments in boat-building and a fuel storage facility in Cape Town, the R80 million allocation for rehabilitating and maintaining proclaimed fishing harbours, and the establishment of three new harbours that will provide opportunities for local and rural economic development.
Phakisa Education has delivered electronic administration infrastructure to over 22 000 schools and over 1 500 schools now have internet connectivity, to the benefit of over a million learners across South Africa.
Women empowerment
The President added that billions of rands have been set aside to support women-owned businesses. 
He said the Status of Women in the South African Economy Report, which was produced by the Ministry in The Presidency responsible for Women, exposed gaps and showed that more must be done to empower women in the economy.
"In September 2015, I issued a directive to economic cluster departments to place the empowerment of women centrally in their plans and in particular, in the Nine-Point Plan to further grow the economy.
"Progress is being made. The departments of Human Settlements, Public Works and Small Business Development are utilising the approach of set-asides to enhance women's empowerment," he noted.
President Zuma said women contractors were allocated over R3 billion of the Human Settlements Development Grant for the 2014/2015 financial year alone.
"This allocation was shared by over 112 female-owned enterprises."
As the country prepares to commemorate the 60th anniversary of the women's march to the Union Buildings, the President pointed out that a lot has been done to empower women.