Written by Thandeka Ngobese
Five community-based cooperatives that plant sugar cane in the area of Qoloqolo in the Umzumbe Local Municipality, KwaZulu-Natal (KZN), will have a sweet sugar cane harvest this year. This comes after MEC for KZN Agriculture and Rural Development (KZNDARD) Cyril Xaba officially launched a R14 million sugar cane project in partnership with the South African Sugar Association (SASA).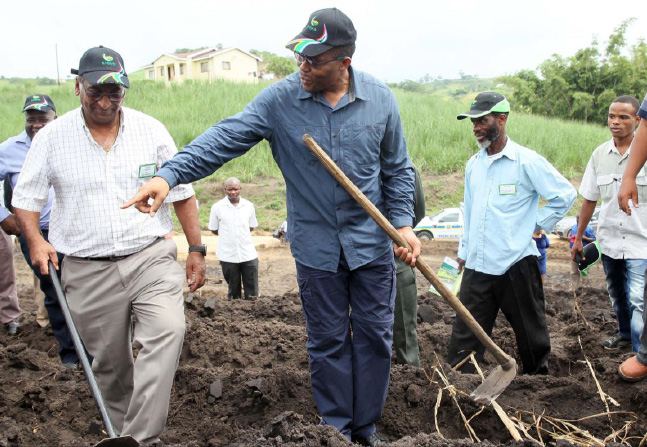 MEC Xaba first visited the area in 2014 when community members asked for government's assistance to help grow and develop the area.
He realised at the time that the area was rich in sugar cane as a commodity and most of the plantations were owned and controlled by community-based cooperatives. This prompted government to look for ways to support these small cane growers.
The funding will see the fencing of 70km of communal land, ratoon management across 1 207 hectares, nine land reform projects, the planting of a further 102 hectares of land and the establishment of five small-scale grower cooperatives.
"This is what I constantly advocate to all farmers in the province; working together for the betterment of the lives of the people of this area. This is a clear sign that together, we can really do more," said MEC Xaba, during a visit to one of the community-owned sugar plantations.
Zebron Phewa of Sizweleni Cooperative couldn't hold back tears of joy when the MEC arrived to view the work they doing. "This is the happiest day of my life. I'm used to farming directly from my pocket, which hindered my growth and further impacted on the livelihood of my family, but now government has heard our cries and they are here to answer," said an emotional Phewa.
Another beneficiary, Norman Cele of Qoloqolo Cooperative, said they never thought that the department would help people from a deep rural area like Qoloqolo.
"It has been our dream to expand our plantation but we could not fulfill our dream because we didn't have financial muscle. We thank the department for helping us. We promise the department that the resources given to us today will not be a waste," he said.
The MEC was so moved by the progress and unity shown that he committed a further
R55 million for the growth of this project.
MEC Xaba reminded the community that agriculture was a science and a business and with government support, the expansion and development of a progressive value chain would be ensured.