Written by *Neliswa Mzimba
The Department of Correctional Services in Gauteng has introduced an innovative way to prevent troubled learners from becoming criminals.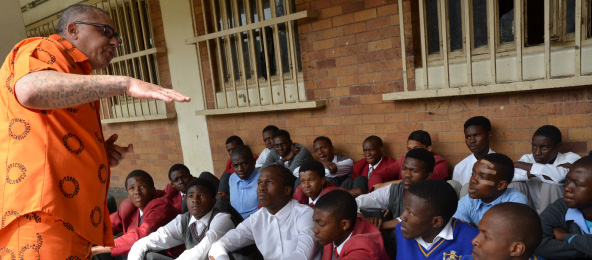 A partnership between the Department of Correctional Services and Gauteng Department of Education sees youngsters who are battling with certain negative behaviours being given a taste of living in a correctional centre.
The orientation programme exposes learners to correctional facilities and offenders to discourage immoral behaviour.
Project manager Samantha Ramsewaki from the Johannesburg Community Corrections Office within the Department of Correctional Services, said young people who visit the correctional centres are those who are disruptive in class and have serious behavioural problems, such as substance abuse, stealing and gangsterism.
"Many of these youngsters see themselves as invincible and resist following rules," said Ramsewaki.
Ramsewaki added that the facilitators, who are also inmates, give a detailed picture of what life is like in a correctional centre.
"This is to give the youngsters a taste of the kind of territorial behaviour found in correctional centres and the feeling of losing one's freedom," said Ramsewaki.
Mahimi Sehlwane, a learner who was part of the programme, said that visiting the correctional centre was an eye-opening experience.
"I really want to change my behaviour especially since it might land me in the shoes of the offenders in this correctional centre," said Sehlwane.
Teaching learners a lesson
Since 2012, about 12 000 learners have been part of this orientation programme and the Department of Basic Education (DBE) in Gauteng plans to include the programme in Life Orientation in schools.
Gladys Msimango, project manager from the Gauteng DBE, said this programme has already involved 15 districts in the province.
"Once learners have been orientated in a correctional centre, their behaviour changes and we receive positive feedback from the teachers which means the project is making an impact," said Msimango.
The reality of life in a correctional centre
The learners are selected from schools around Gauteng and parents and guardians give permission for their involvement in the programme.
On Tuesdays, Wednesdays and Thursdays, between 50 and 100 learners arrive at the Johannesburg Management Correctional Centre in buses.
Male learners are escorted to the juvenile remand detainee facility and locked up with three trained remand detainees of similar age.
"The one-on-one interaction with detainees allows learners to digest the reality of crime and its consequences," Ramsewaki noted.
The learners' sudden awareness that everything is different happens in the blink of an eye. They hear the clang of the iron gate as it locks, the lights go out, and the atmosphere intensifies.
Without warning, there is shouting and banging on the walls by the three remand detainees who claim their territory.
There are only three detainees and more than 40 teenage boys in a cell. This scenario demonstrates the potential dangers that exist behind bars in overcrowded cells.
In a nearby centre, the girls undergo a similar experience of being locked up in one cell with inmates who give the learners an experience of what life is really like behind bars.
During the programme, learners also listen to a talk given by Bernard Mitchel (45), a former gang member who originates from Cape Town.
Mitchel is serving his sentence at Johannesburg Management Correctional Centre. 
He became a gang member at the age of 10 and was imprisoned for the first time in 1986 when he was 14.
Since then he has been in and out of correctional centres and was for a long time deeply involved in a number of gangs.
"You may take for granted all the privileges that you have right now in your lives. Being in a correctional centre is not easy. I have no control over my son's life, who also decided to follow in my footsteps and be part of a gang," Mitchel explained to the learners.
Mitchel said he gives the talks as a way of giving back to the community.
Towards the end of the programme, learners watch a stage performance titled: 'Crime does not pay' in which offenders express their life experiences through poetry and dramatisation.
*Neliswa Mzimba works for the Department of Correctional Services.