Written by Amukelani Chauke
South Africans are reaping the rewards of government's massive investment in infrastructure through new schools, access to water, electricity connections and jobs, among others.
This was revealed by Economic Development Minister Ebrahim Patel in his recent Budget Vote. In a bid to help stimulate the economy and create jobs, government is investing R1 billion per working day on infrastructure across several sectors. The Minister noted this investment is making a positive impact in the lives of ordinary South Africans. The money has helped government build 160 new schools and about 100 000 new houses; connect 245 000 houses to electricity and bring 1 700 megawatts of new electricity onto the national grid.
The investment has also enabled government to lay 100 kilometres of large water pipelines that can convey billions of litres of water a week to communities and businesses; build 29 new clinics and one new hospital and complete three buildings at the University of Mpumalanga and provide new student accommodation for 4 210 students country-wide. "We made similar progress with the manufacture of buses, taxis and trains; roads that were refurbished, new bus-lanes built and new Wi-Fi sites in urban and rural areas. The direct employment created through infrastructure investment is estimated at 291 000 and with indirect and induced employment, there were 715 000 jobs supported by the state's infrastructure programme," he said.
Job creations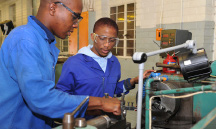 Despite slow economic growth, thousands of jobs were created over the past year, the Minister added. "Jobs numbers have, however, grown in the past calendar year by some 700 000 new jobs, but there are new pressures particularly in mining and related sectors that are of concern to us," he said. Minister Patel said AB InBev, a foreign company that recently merged with alcohol and soft drinks company SAB Miller, has agreed to spend R1 billion in a commitment that will help create 800 emerging farmers.
AB InBev has committed R1 billion to a localisation effort for farmers and other suppliers of inputs. Approximately R610 million of this will be used to support the development of 800 new emerging farmers and 20 new commercial farmers to produce more local barley, hops, maize and malt, with the strategic intent to create at least 2 600 new jobs in agriculture, he added. "We agreed that the company would commit R200 million to enterprise development that includes setting up a business incubation facility, promoting innovations and supporting business coaching facilities to small businesses."
Educational programmes
AB InBev has committed R190 million to sustainability and educational programmes that include the development of alternative energy sources for their company's own operations, a commitment to reduce waste and encourage recycling and preserving water. "We have parts of the country that are water scarce, not just during the drought period but in the long term. They have committed to youth programmes, to making scholarships available for engineering … students and to provide 200 additional learner ships. "I think what is significant is the company wants to work with government to ensure that over a number of years, that we turn the country from a net importer of hops to a net exporter of hops and malt," he added.