Written by Nonkululeko Mathebula
After years of living in a shack and renting back rooms in people's yards, Martha Radebe now has a solid roof over her head and is the proud owner of her own home.
Radebe, a 62-year-old pensioner, received her house in Mohlakeng Extension 11 from the Gauteng Department of Human Settlements and the Randfontein Local Municipality last year, making her lifelong dream of owning a house a reality. The housing project has seen hundreds of residents in the area become homeowners for the first time. So far, 570 houses, which are now occupied, have been built as part of the first phase of the housing project. The second phase, which aims to have 629 houses, is nearing completion and houses are also being given to beneficiaries as and when they become available.
Restoring dignity
Sharing her story with Vuk'uzenzele, Radebe, who is also a mother of four and a grandmother of two said, she was thrilled to finally have a roof over her head that she could call her own, adding that this had also restored her pride and dignity. "I was renting for more than 10 years, together with my children, and had to move from one shack or back room to another because of the difficult circumstances. "At one point I lost everything after my shack burned to the ground. I had to rebuild my life and I'm glad that I eventually received this house from government, which has been one of my biggest blessings in life."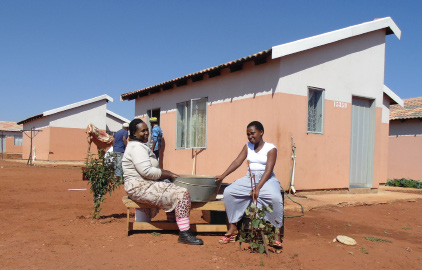 Radebe said she still has to pinch herself to make sure that she is not dreaming and that the house really is hers. "My children no longer feel ashamed of where they stay now and have welcomed this home. Life truly is much better now and I feel like a load has been lifted off my shoulders," she added.
Radebe thanked government for the house, saying it had changed her life and that of her children and grandchildren. Another beneficiary of the project, Funiwe Magudu, said receiving her house had given her family peace of mind. "We used to stay at the Zenzele informal settlement before this and I would always stress when the weather was bad. "Our shack was constantly blown by strong winds and damaged by rain and I never thought I'd own my own home," said Magudu.
Creating jobs
According to Randfontein Local Municipality spokesperson Tshidiso Tlharipe, the municipality is proud of what it has been able to achieve with the project thus far. "We were able to create more than 200 construction job opportunities through this project and this is something we are proud of. "We also appointed six local contractors who are providing us with other services such as the installation of roofs and painting of houses. As a municipality, we decided that our people will not only benefit from the houses, but will benefit from the job opportunities of creating these houses," said Tlharipe.
The municipality is also constructing a R55 million power station in the area, which is expected to provide electricity to the community once completed. Roads and other infrastructure developments are also being looked at and will be constructed in the near future.