Written by Allison Cooper
Julia Thandeka Shungube (39) is doing her bit to uplift her corner of rural South Africa, thanks to receiving a helping hand from government and her can-do attitude.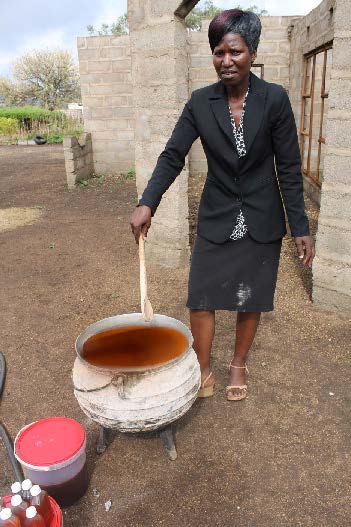 As the 2015 winner of both the Mpumalanga and national legs of the Female Entrepreneur Awards Programme, Shungube (39) received total prize money of R750 000.
The competition is a joint venture between the Department of Agriculture, Forestry and Fisheries, the provinces and key partners in the sector. It acknowledges, encourages and increases the participation of all women in the sector, including the youth and those with disabilities. Its long-term goal is to assist female subsistence and smallholder producers to become commercial entrepreneurs.
Growing up in Mbangwane Village, a rural area that falls within the boundaries of the Nkomazi Local Municipality in Mpumalanga, Shungube is the proud owner of Siphandane General Trading, which manufactures castor oil.
Her grandmother, who made castor oil only for family and friends, passed on her knowledge to Shungube.
In 1998 Shungube worked as a security guard but wanted to do something else to earn money as she was the family's sole bread winner. When her grandmother passed away she thought of turning her method of producing castor oil into a business.
"I heard a business talk show on my local radio station, Ligwalagwala FM, which mentioned a free workshop hosted by various government agencies to encourage the youth to start their own business," said Shungube.
"I was working the night shift as a security guard, but attended the workshop during the day."
The Small Enterprise Development Agency in Malelane helped Shungube to develop a business plan, which she entered into a competition run by the Mpumalanga Department of Economic Development in 2009. She won the competition and used her prize money to fence a 10-hectare piece of land. The chief of Mbangwane Village gave her the land so that she could start growing Ricinus communis, the castor oil plant, locally known as the Mhlafushwa tree.
"In 2010, while still working night shift as a security guard, I won R10 000 in a competition run by the National Youth Development Agency, and used the prize money to buy a laptop and printer," says Shungube.
The same year she won another competition and used the R25 000 prize money to drill a borehole on the land.
Shungube carried on working as a security guard at night until 2015 when she won the Mpumalanga Female Entrepreneur Awards Programme. She went on to win the national competition in August 2015.
"Everything that I have achieved so far has been with prize money from competitions; I haven't received any government grants at this stage," said Shungube, whose dream is to have a structure built in which to house machinery needed to grow her business.
Shungube, still producing castor oil by hand, has grown her company from 10 to 20 employees from the local community.
"Unfortunately, due to the drought, all planting has been put on hold. Planting is also seasonal, so it can only take place in the first three months of the year," she said.
This is a great pity as Shungube's castor oil is already in demand. She has increased the size of her land to 13 hectares and supplies local farmers in the Kruger Lowveld region, who sell her product to their customers.
"Another dream is to be able to supply castor oil nationally, but I can't do this until I have the machinery needed to support such large production quantities," said Shungube, who's really passionate about farming.
Shungube is determined to make a difference in her community when it comes to economic development and job opportunities.
"Farming is in my heart. I work hard and believe in knocking on many doors, for assistance, until one is opened for me," said Shungube, because she's determined to make a difference