Written by Noluthando Mkhize
The lives of learners with an intellectual disability from Hope and Grace Lsen Special School in Limpopo will change for the better.
This was after the MTN SA foundation donated a computer laboratory, which caters for learners with an intellectual disability. The Deputy Minister of Social Development Hendrietta Bogopane-Zulu facilitated the donation. The MTN foundation donated a fully refurbished classroom, which was turned into a computer lab along with 20 computers to the school.
Hope and Grace Lsen Special School principal Mabore Ngoatje said she was delighted to receive the donation. "These computers will assist our learners in learning because it takes time for our learners to grasp learning because they cannot read. With the new computers they will be able to look at a picture and associate it with a word. This means learning will be grasped quicker," said Ngoatje.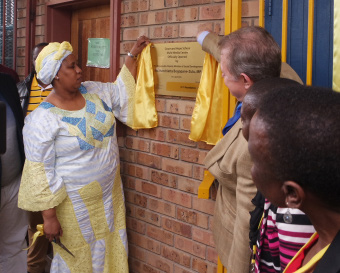 Ngoatje added that the school did not have a curriculum that caters for intellectually impaired learners. With the new computers teaching and learning will be made easier. Grace and Hope Lsen Special School has 475 learners. The school's vision is to educate intellectually impaired learners to become skilled future leaders in society and offers programmes including creative arts, fashion design as well as interior decor and design lessons. "Now that learning will be made easy for our learners we are confident that learners will not be marginalised by the community and will be included in the job market. Once our learners are taught properly they can do amazing things in the community."
The computer lab will also benefit learners from nearby schools such as Alf Makaleng and Luthuli Park primary schools, Mayeke Higher Primary as well as Masedibu High and Dr A.M.S. Makunyane Secondary schools. Deputy Minister Bogopane-Zulu said the laboratory forms part of actions to realise the plans set in the White Paper on the Rights of Persons with Disabilities as approved by Cabinet last year. "The White Paper seeks to, amongst other things, accelerate and implement existing legislation that advocates equality amongst persons with disabilities.
"It further calls for removal of discriminating barriers to access and participation and ensure that persons with disabilities' rights to equality and access are fully realised," said Bogopane-Zulu. Bogopane-Zulu said the White Paper is an essential step along the journey of improving the lives of persons with disabilities and moves the country closer to a fully inclusive society for all as envisioned in the Freedom Charter, which explicitly stated that South Africa belongs to all who live in it.