Written by Noluthando Motswai
Mother and child units allow the bonding that is critical during an infant's first years to take place in an environment that is as nurturing as possible.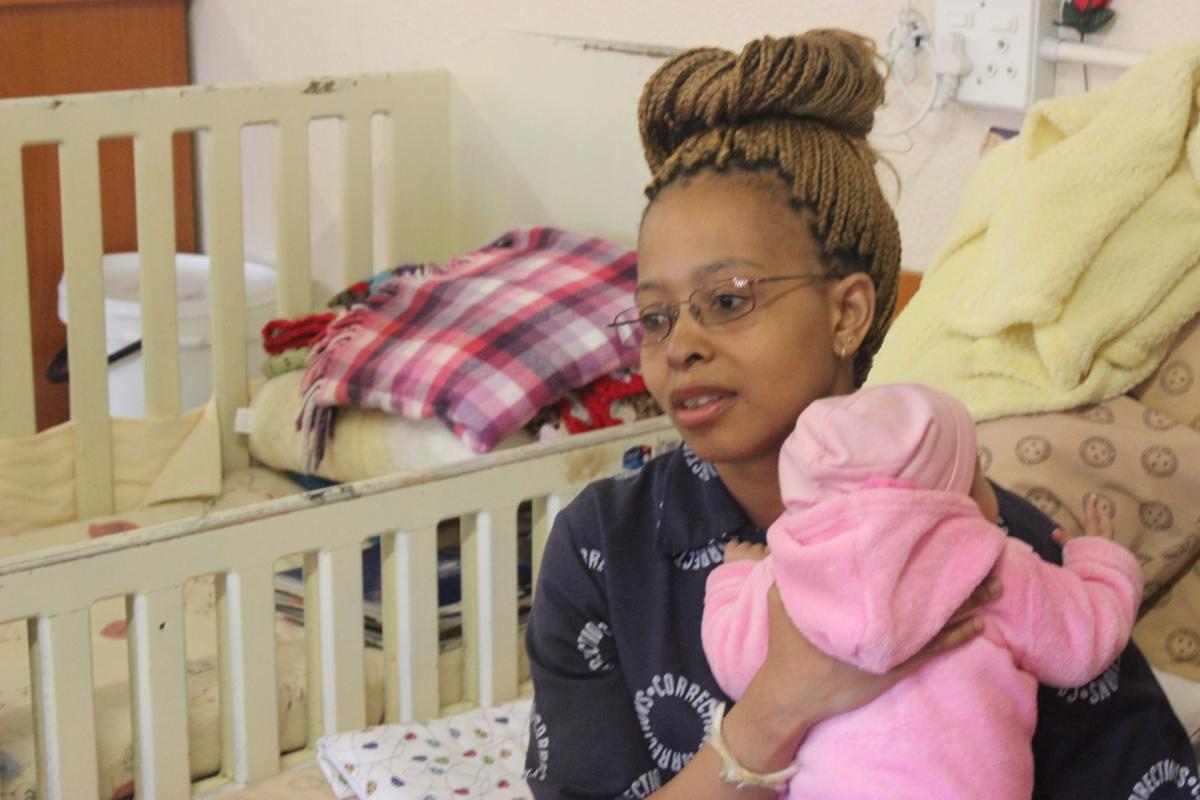 Minenhle* is just seven weeks old and she has already had a taste of what life is like in a correctional facility.
Her mother Phumelele Madela, (36), is serving an eight-year sentence for fraud involving money laundering. Madela is being rehabilitated at the Johannesburg Correctional Centre's Mother and Child Unit.
Minenhle will stay with her mom for 24 months to allow a strong bond to develop, before being sent to live with a family member while Madela completes her sentence.
While inside mothers leave their children with childminders while they attend courses offered by the Department of Correctional Services. These include parenting, anger management and economic crime awareness courses.
Madela grew up in Soweto with her mother and brother.
"I got sucked into the world of crime because I was living beyond my means. I was a bread winner with two other children. I was employed by a logistics company doing administration and was in debt; life was tough,"she said.
Madela was part of the money laundering syndicate for about a year and was caught when her company started an investigation.
She said speaking out about her mistakes is her way of saying sorry to her victims and a form of rehabilitation.
"When I arrived at this facility I was four months' pregnant and had been given a 13-year sentence, suspended for five years," she said.
"I gave birth at Chris Hani Baragwanth Hospital.
 When I needed to go for my check-ups I would be shackled. I had to endure the stares as part of paying my dues to society."
Madela said that it took time to come to terms with life in a correctional facility especially because part of her sentence is served with her daughter.
"I would cry and I was angry but with the counselling and courses that we attend in this facility it became easier for me to accept what had happened."
The remorseful Madela said she is very sorry for the crime that she committed and the hurt that she caused.
"To young people out there who are thinking of committing crime, think before you act; there are always two roads in life – one good, and another bad that could land you in here. I chose the bad road."
Accommodating mothers and babies
Ofentse Morwane, communications manager for Gauteng Correctional Services said that the Johannesburg unit, which currently houses 27 babies and their mothers, was officially opened in 2012. Similar facilities exist at other centres, including:
 East London Correctional Centre in the Eastern Cape.
 Durban Westville Correctional Centre in KwaZulu-Natal.
Polokwane Correctional Centre for the Limpopo, North West and Mpumalanga region.
 Kroonstad Correctional Centre for the Free State and Northern Cape region.
Morwane said the roll-out of these mother and child units is the department's direct response to the increasing number of babies who find themselves behind bars with their mothers. 
"These facilities have been designed with the interests of the child in mind to allow the babies to have as normal an existence as possible, given the incarceration of their mothers."
*Not her real name