Imagine being able to give your child the world and all the knowledge in it. Anyone can do this, thanks to the magic of cheaply priced books.
In fact, you mostly do not have to spend a cent, as a library card instantly gives you access to thousands of books, free of charge.
By picking up a book, you give your child the keys to open doors to worlds that would otherwise be impossible to reach. Children living in Mqanduli in the Eastern Cape can use their minds to go anywhere they wish in the world.
Children's book author Vuyolwethu Madanda agrees, saying reading sets children up for future success.
"Through reading, children can learn the art of logic. This is a skill that is carried through life's learning, one that is transferable to different learning areas and school subjects."
In her upcoming book, Iholide eCoffee Bay (Holiday in Coffee Bay), Madanda wants children to experience the joy of the simple things in life – playing out in the sun by the sea – even if they have never been to the beach.
"I want the reader to feel the warmth of the sun; hear, smell and taste the ocean. The book is about the experienc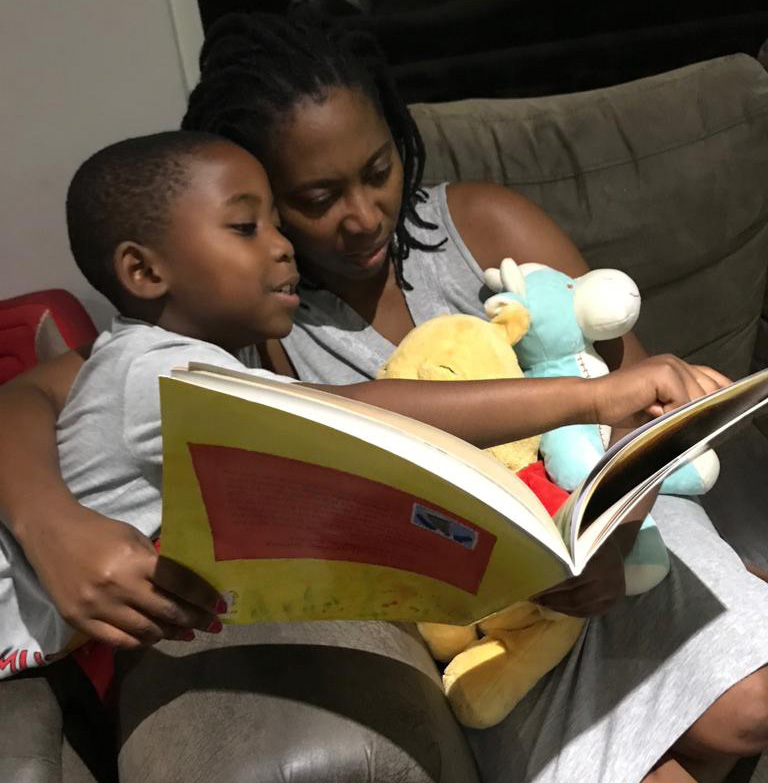 e of being on holiday and really just doing fun things out in the sun," Madanda says.
"A child who grows up reading about the universe around them grows up with a thirst for knowledge, understanding that they too have an important role to play in the world. Books give children the words to express themselves, and teach them what they need to know as they grow," said Madanda.
"Reading does not only have to happen with books. On a commute, read any pamphlets and road signs you might pass. This will give your child a better understanding of the world around them."
"If you are trying out a new recipe from a magazine, read the instructions with your child. Find age appropriate stories to share with them from the newspaper. This way, reading becomes part of daily life," she said.
Madanda swears by reading as a way of bringing her family closer. She takes turns with her husband to read to her five-year-old son every night.
For this writer, who comes from a culturally diverse background, reading in as many languages as possible helps to give her son a sense of belonging and keeps him connected to his Xhosa and Venda roots.
 "Reading can also help us break open conversations with our children. Many times you're not really going to lecture a young child about the dos and don'ts of life… Sometimes the best way to do that is to find a book that addresses what you, as a parent, want to say. You can share many messages through stories," says Madanda. 
Top 10 tips to help children enjoy reading
1.   Make books a part of family life – even if it is for five or 10 minutes, aim to read every day.
2.   Join your local library – your children will get access to hundreds of books for free.
3.   Read about something they are interested in – it does not matter if it is fiction, poetry, comic books or non-fiction.
4.   All reading is good – do not rule out non-fiction, comics, graphic novels, magazines or leaflets.
5.   Get comfortable! – whether it is on a beanbag or the sofa, make sure your child has somewhere comfy to read on their own too.
6.   Ask questions – ask your child questions as you read to keep them interested in the story, for example, 'Can you remember what has happened so far?' and 'What do you think will happen next?'
7.   Read whenever you get the chance – have a book or magazine for any time your child has to wait, like at the clinic or in the transport back home after school.
8.   Read favourites again and again – re-reading helps to build fluency and confidence.
9.   Enjoy bedtime stories – it is a great way to end the day and spend valuable time with them.
10.  Make the most of rhyme and repetition – books with rhymes and repeated words or phrases are great for getting your kids to join in and remember the words. *Source: Pearson
Reading for 30 minutes with your child helps improve their literacy.