The ownership of a driving licence can be a door opener for young job seekers. This prompted the Gauteng Department of Education (GDE) to give pupils from no-fee schools an opportunity to be qualified drivers.
Pupils from selected no-fee schools in Gauteng recently took the first step of being drivers by taking part in the K53 learner's licence programme.
The objective of the programme is to equip young people with professional driving and life skills. In addition, it is aimed at tackling challenges related to road fatalities due to limited road safety education.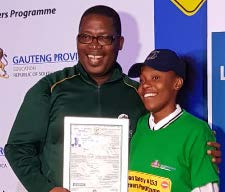 Mbali Malekane from Selelekela Secondary School in Soweto, who received her learner's licence certificate, said she was grateful for the opportunity that had been handed to her.
"The learner's (licence) test at Langlaagte was difficult but it had to be done because it was a good opportunity," she said.
 "We are truly living in an equal South Africa where we all have the same opportunities," she said.
The GDE's plan is to have matriculants graduating with multiple skills.
"We are proud of all the learners who participated in this programme. Those who acquired the K53 learner's licences will gradually be assisted to obtain their K53 driving licence," said Gauteng Education MEC Panyaza Lesufi.
The department said the programme participants are all grade 11 pupils over the age of 17 who come from public schools in Gauteng.
MEC Lesufi said his department is planning to partner with private sector companies to offer skills training.
He said the aim is to ensure that pupils no longer leave  township schools in search of quality education.