Written by: More Matshediso
Sport, Arts & Culture
The Western Cape Government is helping residents to make healthier decisions about their lifestyles through healthier eating habits and physical activity.
The Western Cape on Wellness (WoW) initiative encourages community members to be more active.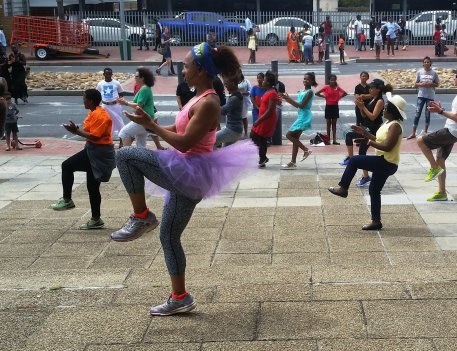 It includes active public sessions where communities can take part in activities such as aerobics at no charge, and the sessions are open to all ages and fitness levels.
By participating in this programme, government says residents can reduce the risk of getting non-communicable diseases.
Western Cape Government gym instructor Neil Naidoo recently led a public aerobics class in the Iziko Museum.
"Physical inactivity, unhealthy eating and an unhealthy weight are considered major risk factors for a number of harmful health outcomes including obesity, diabetes, hypertension, cardio-vascular diseases and other non-communicable diseases," he explained.
The risk profile of ordinary South Africans indicates that nearly seven out of every 10 women and one in three men are overweight or obese; one in three women and one in five men have hypertension.
According to the WoW initiative, the risk profile also shows that between 11 and 13 percent may be diabetic or have impaired glucose tolerance.
Research also shows that over 80 percent of the South African population relies on the state services for healthcare.
 "We are mobilising and introducing the entire public to a healthier lifestyle. This shows that you don't have to go to a gym to live a healthier lifestyle," he said.
"You can engage in any sort of movement, actions or mobilisation of your body. If you are dancing or doing anything that's active, you are making a move to a healthier lifestyle. The entire public is welcome to participate in the WoW Active Public sessions," he added.
The WoW Active Public sessions take place every Wednesday in the Company's Garden or in the Whale Well of the Iziko Museum.
The Western Cape Government Gym also hosts employees' only sessions on Wednesdays from 11:15 to 11:45.