Written by Silusapho Nyanda
People living with a chronic illness can lessen their risk of exposure to the coronavirus (COVID-19) when collecting their chronic medication, thanks to a collaboration between Right ePharmacy and the Department of Health.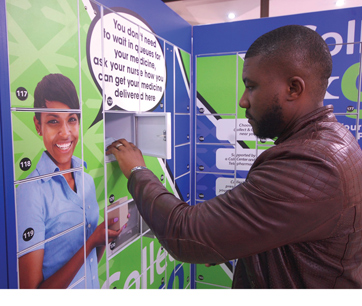 The Collect and Go smart lockers enable people to collect their repeat chronic medication from external pick-up points, without having to stand in queues and mingle with people who may be ill.
Patients whose chronic illnesses are in a stable condition and who want to use the lockers should register for the service at their healthcare facility. When it is time to collect their medication, a one-time PIN will be SMSed to them. The pin will be used to open the locker.
Patients are provided with a two-month supply of their medicine and are reminded to collect it every second month. A check-up at their local clinic must be done once a year, at which time they will be given a new prescription.
Collect and Go smart lockers are available in Gauteng, Mpumalanga and the Free State and are situated near public health facilities and busy areas like shopping centres.
Know your status
Now more than ever, people need to know their HIV status because this is one of the underlying diseases that could make you extremely ill should you contract COVID-19.
Workers from the Department of Health and non-profit organisation Right to Care who are doing mass community screenings for COVID-19 are also equipped to do free HIV tests.
"If you don't know your HIV status, Right to Care and the Department of Health community counsellors will give you a respectful, free and confidential HIV test wherever you are comfortable: at your nearest facility, in your community or your home, making it easy for you to test, start treatment and stay on treatment," says Dr Chuka Onaga from Right to Care.
The organisation's Dr Seithati Molefi explains that people with HIV have a weaker immune system, which means their body will not be able to fight COVID-19 effectively. "It is critical that you get tested to know your status so that you can start antiretroviral (ARV) treatment should you be positive.
"Patients who have stopped taking their ARVs are also at risk of severe disease and should ensure that they get back on their medication immediately," Dr Molefi says.