Written by Silusapho Nyanda
Testing is critical in the fight against the coronavirus disease (COVID-19) because it gives government a picture of what it is up against and enables it to respond appropriately.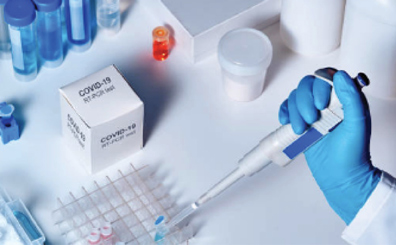 The respiratory virus is spread through physical contact and respiratory droplets, which are spread when we cough, spit or sneeze. The virus can be fully diagnosed only through a lab test, which can be done at any of the capacitated 18 National Health Laboratory Service (NHLS) labs and at private labs.
The tests are done on samples collected from people exhibiting symptoms by swabbing the inside of their nose. Once a swab is done, the collected specimen is taken to a lab where a medical scientist, medical technician or medical technologist tests it for the presence of the virus.
Dr Florette Treurnicht, who is the head of Medical Virology at the NHLS, says a swab up the nose is done because respiratory illnesses like COVID-19 usually present in the upper airways of people. She says in the case of COVID-19, swabbing up the inside of the nose or inside the mouth produces a sample good enough to test for the virus. People may also cough up sputum for testing.
In a case where a patient is on respiratory support in ICU, the sample is taken by inserting a tube down the throat.
The process of conducting a test on a single sample can take anything between 45 minutes and two hours.
The tests are conducted at labs that have specialised virology testing kits. On average, each lab has between eight and 16 technicians and can complete 1 500 tests a day.
When NHLS labs have more tests than they can process, they ask for assistance from their private sector colleagues.
Dr Treurnicht says that while the labs have sufficient testing equipment, there is a shortage at some point-of-care centres.