Focus on the provinces
Caring for the environment is something most people are aware of, but they either do nothing about it or only do it as voluntary work. A group of Eastern Cape women have found a way to contribute to a better environment, while also earning money to feed their families.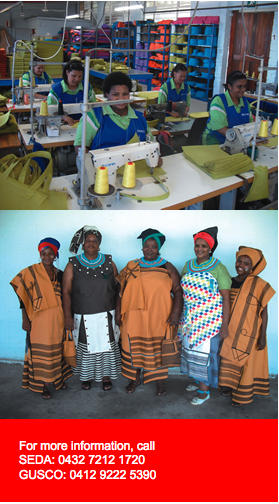 Reaching success has been a long, difficult road for members of the Greater Uitenhage Sewing Co-operative (GUSCO). What started six years ago as three informal groups making school uniforms, has turned into a successful co-operative business.   
GUSCO supplies colourful, re-usable fabric shopping bags to Woolworths. Because the bags are re-usable and made of fabric instead of plastic, they do not pollute the environment. This means they are environment-friendly, or eco-friendly for short.
Fighting poverty
GUSCO has a yearly income of about R2 million and helps to fight poverty by employing more than 30 people.
The co-operative first got funding from local motor assembly company, Volkswagen South Africa (VWSA). VWSA provides the premises where the co-op manufactures its shopping bags, on a lease basis.
The co-op also received some support from the Small Enterprise Development Agency (SEDA) of the Department of Trade and Industry.
SEDA helped the all-women co-operative with business support services, such as registering their business, drawing up a business plan, planning for production, marketing and financial management.
Other than SEDA and VWSA, the co-operative also received help from the Uitenhage Despatch Development Initiative. This is a local organisation focusing on developing SMMEs in the area.
Hard work
Getting the contract to supply the re-usable bags to Woolworths required a lot of hard work as the product had to meet the high standards of this up-market retail store.
Armed with a working business plan, the co-operative was able to get a R500 000 loan from a financial institution. This helped them to buy 22 new sewing machines, which they use to produce almost 8 000 shopping bags a week.
Commitment
Woolworths has been buying environment-friendly shopping bags from GUSCO since 2005. The bags form part of the Woolworths' commitment to use environment-friendly products. It also shows the company's commitment to support the development of small and medium-sized businesses.
Apart from Woolworths, which buys 30 per cent of the overall shopping bag production, the co-op also supplies eco-friendly products to other customers.