Local government
Government's housing programme in Germiston, Ekurhuleni has given residents in the area a place to call home.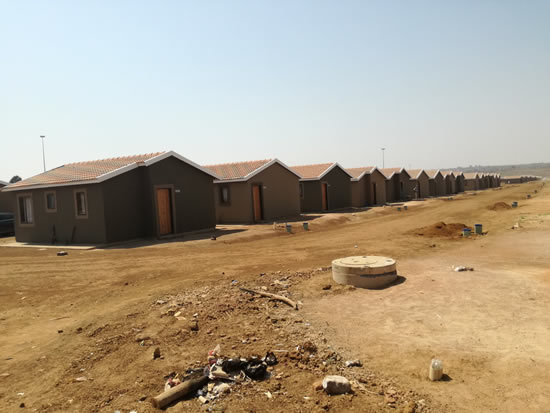 Melta Maluleke, a mother of four, recently became a beneficiary of government's housing programme in Germiston, Ekurhuleni.
Maluleke's family is among those who now have a stable environment to call home. A total of 140 affordable housing units have been built in Germiston to improve the lives of disadvantaged people.
The new houses also cater for people with disabilities.
Maluleke, who is originally from Limpopo, lived in a shack in Orlando East before taking ownership of the new house. Life was difficult in a shack, especially in winter and during rainy days when she had to go out to fetch water.
"Staying in a shack with kids was not pleasant at all," said Maluleke.
Echoing the same sentiments was Wilfred Sindane, who lives with his family in the same area. Sindane told Vuk'uzenzele that their lives have changed for the better now that they live in a new concrete house.
"Our children can do their schoolwork without any hindrances," said Sindane.
Another proud owner of a new house is Zukiswa Mhlakaza, who initially lived in an informal settlement in Freedom Square. Mhlakaza, who now lives in a newly developed area in Clayville, near Tembisa in Ekurhuleni, had lived in an informal settlement for the past 20 years.
"I am happy that I now have a house of my own. Life here is much better," she said.
Mhlakaza is visually impaired and unemployed. She depends on a social grant to support herself and her three grandchildren. She now gets by with the help of her neighbours.
"The neighbours here are very good people who look after me."
The newly built homes in Germiston and Clayville are in areas that are next to bus routes to make it easier for residents to travel to work and other amenities. There are also schools nearby for children to attend.
More than 100 housing units have been built in Clayville. The houses, which are one- and two-bedroomed, have space for a garden, especially those that are on the ground floor. The houses are fitted with solar-heated geyser systems.