The arrival of the festive season widely greeted with a sense of relief and the belief that each passing year is somehow tougher than the year before.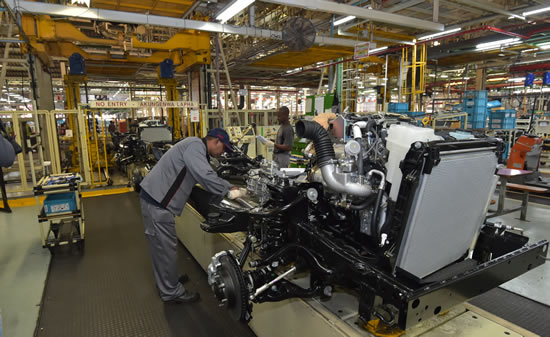 This is often due to us accumulating experience and witnessing and taking an interest in the events, positive and worrying, unfolding in our lives and in our country.
2016, like every year before it, was yet another mixed bag of achievements and challenges.
It has in many respects been a tough year. Economic growth remained slow. Our political journey was turbulent at times.
But, at the end of this eventful year, our country not only stands, but stands strong, because our democracy works. Between the Programme of Action of government, a watchful Parliament and justice administered by our courts, we are in good hands, no matter what the challenge of the day may be.
In the economy, we are ending the year on a very encouraging note, with three global ratings agencies keeping South Africa's national debt credit rating status above junk status.
We owe our good standing to the hard work done throughout the year by government, business, labour and communities to get growth back into our economy and create jobs. Unity in action and hard work has paid off against a very volatile global economic climate.
Throughout 2016, government met with the likes of Black Professionals, the Black Business Council, the BEE Advisory Council, the CEO Initiative, the Labour Working Group and others to explore what we could do together to bring hope and new opportunities to our nation.
The National Economic Development and Labour Council also reached the historic milestone of a proposal of a National Minimum Wage of R20 an hour or R3 500 a month.
We were also pleased throughout this year to welcome and launch new investments in our country – such as the Toyota production plant in Prospecton – where jobs are being added to our economy in a project that shows South Africa has a profitable place in the global economy.
As we did with the economy, government worked closely with student representatives and institutions of higher education to bring stability to our tertiary campuses and education opportunities to young South Africans, following unacceptable violence, vandalism, injury and a limited number of deaths.
Since South Africa is an active player in the development of our own region and Continent as well as a highly respected partner internationally, our economic effort at home was accompanied by us building sound relations, especially economically, with other countries.
We engaged during this year with Botswana, Lesotho, Zimbabwe, Namibia, Swaziland, Ethiopia, Uganda, Kenya, France, Iran, China, India, Russia, Vietnam, Qatar, the United Arab Emirates, Singapore and the Kingdom of Saudi Arabia – just to name some.
In keeping with the cycle of life, we sadly took leave of a number of notable South Africans whose contributions our country should never be forgotten.
Among those whose passing we marked were anti-apartheid activist and liberation theologian, the Reverend Prof Bonganjalo Claude Goba; academic, author and feminist, Ms Phyllis Ntantala-Jordan; former Minister of Sport and Recreation and former Premier of the Eastern Cape Province, the late Reverend Arnold Makhenkesi Stofile; liberation struggle stalwart, former Robben Island prisoner and former President of the Pan Africanist Congress Mr Clarence Makwetu; Professor Adam Small; Kwaito legend Mr Mduduzi Tshabalala, popularly known as Mandoza; racing car driver Mr Gugu Zulu and acclaimed opera singer Mr Johan Botha.
But we also joined Archbishop Emeritus Desmond Tutu and Ma Winnie Madikizela-Mandela in celebrating their 85th and 80th birthdays respectively.
As South Africans we also celebrated the glorious achievements of our national teams and individual performers at the Olympics and Paralympics were our competitors demonstrated to the world that South Africa is a place that develops the full potential of its people.
Mamelodi Sundowns' victory in the CAF Champions League and the success of the Proteas against the cricketing might of Australia will also remain special memories.
One of our outstanding celebrations was that of reaching the milestone of having delivered more than 4 million government houses and subsidies since the dawn of democracy in 1994.
We also launched the eChannel Pilot Project of the Department of Home Affairs which has worked with four major banks to introduce an online application platform for Smart ID cards and passports.
At the end of this momentous year, I offer all South Africans my wish for a restful and peaceful festive season with family and friends. Let's be responsible as we use our country's roads; let's be responsible in our personal relationships and let us be responsible as we party at our homes or elsewhere.