Written by Noluthando Motswai
Emihle Majikija (16) can't wait to be a law student and realise her dream of being an attorney.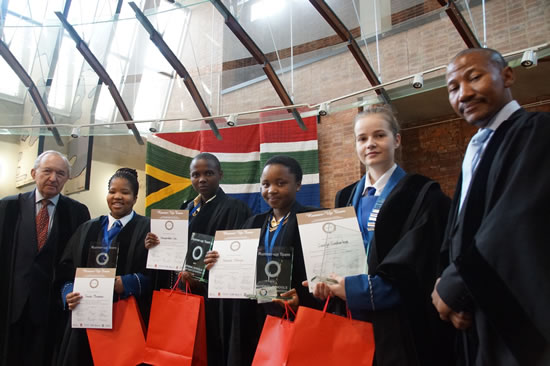 Majikija, from Harding Secondary School, Aviwe Vilane, also from Harding Secondary School, and Surprise Mahlangu and Thembinkosi Msiza from MH Baloyi Secondary School in the Tshwane West District in Gauteng were crowned the winners of the Moot Court Competition.
The team members were awarded bursaries to study law at a university of their choice in South Africa.
"This competition gave me an opportunity to learn so many things in the legal field. Once I complete my matric, I will begin my path of studying towards being an attorney. I'm so happy to have been part of the team that won this competition," said Majikija.
The competition provides a unique opportunity for learners to develop their public speaking skills, and research, writing skills, learn to structure a legal argument and analyse cases.
Majikija said the highlight of the competition for her was presenting an argument in the highest court in the land at the Constitutional Court.
"It was so exciting to mitigate in the highest court in the land where not even advocates have had a chance to present their arguments."
Majikija also said being part of the competition gave her the ability to understand the importance of the law in a democratic country.
"The law is so important; it helps people live in peace and harmony. That is why it's so important to respect the law," said Majikija. 
The Moot Court competition was created, among others, to empower and encourage young South Africans, especially those in grades 10 and 11 from all provinces, to understand and relate to human rights concepts, values and principles. The competition further also aims to encourage learners from previously disadvantaged schools to pursue careers in law.
Learners from schools around the country are given a topic to debate on at the Constitutional Court and the best arguments win the competition.
This competition is a partnership between the University of Pretoria Institute for International and Comparative Law, the University of Venda, the Department of Justice and Constitutional Development, the Department of Basic Education, the Law Society of South Africa and the Foundation for Human Rights.
Deputy Minister of Justice and Constitutional Development John Jeffery said this year's competition celebrated South Africa's Constitution, our constitutional rights and responsibilities and strived to develop the potential of each participating learner.
"As part of the efforts to strengthen the constitutional democracy, the Department of Justice and Constitutional Development has created a Slimline version of the Constitution and is currently distributing over 500 000 copies to Grade 12 learners in schools countrywide," said Deputy Minister Jeffery.