Two KwaZulu-Natal women have teamed up to honour the ancient craft of basket weaving, while also adapting to changing trends.
While baskets made of ilala palm leaves are common, Ntombi Mabaso from Newcastle and Nozipho Majozi from Hluhluwe give their products a twist by using innovative design and incorporating colour to create an exciting product range.
Majozi, who learnt to weave from her grandmother, has been making baskets since she was young. She used to sell her creations in Durban's South Beach. Mabaso, on the other hand, is a self-taught fashion designer who used to buy second-hand clothes that she would alter to create unique pieces.
In 2019, Mabaso bought four baskets from Majozi and set about giving them a new look, by adding leather belts and other unique touches. They were a hit with her customers and she bought more baskets from Majozi. This led to the women teaming up and to Mabaso registering her new company, called Handpicked Retro.
The product range was soon expanded to include knitted hats, children's baskets, flower trays and laundry baskets.
However, things took a turn for the worse when the COVID-19 pandemic hit, not long after the women started working together.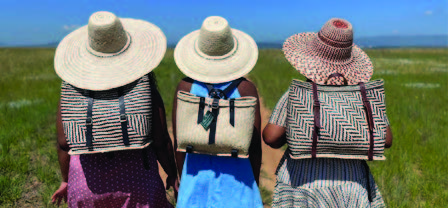 "It was difficult to get stock because we live far apart. We had to wait until the movement of people and goods was allowed. I used the opportunity to think about creative ways to promote the business and reach more customers," says Mabaso.
In 2021, thanks to support from the KwaZulu-Natal Department of Economic Development, Tourism and Environmental Affairs, Mabaso took part in various exhibitions, including the House and Garden Show, which resulted in her getting customers from across the country.
In September 2022, she took part in the Durban Business Fair after receiving training from the Small Enterprise Development Agency (SEDA). She also exhibits at monthly community markets and pop-up markets hosted by the SEDA.
Majozi has since stopped selling her baskets in
Durban and focuses on supplying Mabaso. She employs three women to help her when they get huge orders.
"Ntombi brought new
ideas, like designs and shapes, and we combined our skills very well to make our baskets stand out from the rest. I am glad that we can help other women, particularly in my area, because there are a lot of us who have the skills," she says.
Mabaso, who uses social media and a website to market Handpicked Retro's products, hopes to open a factory in Newcastle.
For more information visit www.handpickedretro.co.za
For more information about SEDA visit go to www.seda.org.za or call 0860 103 703.
 
Crossword puzzle answers refer to page 4.
Across 1. MTBPS  3. EPWP  8. SUE  11. SOLAR  12. SAIC  14. DSD  16. ZOOM  18. SAQA  19. DNA
               20. LABOUR   22. TRC   23. PIN   24. BILL  26. ASSIST  27. ML
Down   2. TOLL  4. PP   5. PT  6. MISUZULU  7. YES  8. SRD  9. ECD  10. LED  13. AU  15. SANRAL
               17. PARTIES  18. SU  21. BRICS  24. BRT  25. LOL