Coming from Cape Town to Johannesburg to fulfil her entrepreneurial dream, Tumi Khobane (32) is celebrating Africa through coffee.
After completing her studies and moving to Johannesburg, Khobane's future was given a shot of caffeine-fuelled adrenaline when she fell in love with coffee and established a family business, Monate Coffee in 2017.
 The business is funded by shareholders including a business loan from ABSA.Khobane says she has dedicates 90% of her time to ensuring that her start-up is a success.
"The reason I started Monate Coffee was to fulfil the South African mandate, which is creating jobs for people who are unemployed," says Khobane.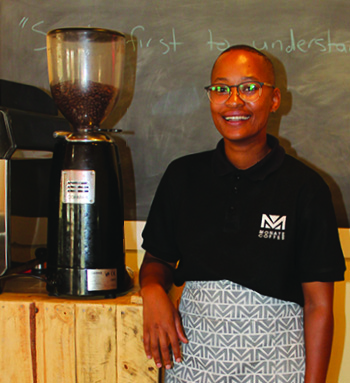 She added that she did not have any professional coffee training.
"I am self-taught, I also asked some industry friends to show me some things related to coffee. I also learnt from watching videos online  and did research about coffee."
She hopes that her journey will inspire the youth to know that coffee has viable career opportunities, such as being a barista, roaster or part of the coffee supply chain. The company also offers training to prospective Monate Coffee baristas.
Monate Coffee is a growing enterprise that already operates in three locations – Cedar Square in Fourways, Peter Place in Bryanston and TotalEnergies Elandsfontein in Lichtenburg, North West.
The company sources its coffee beans from Uganda, Rwanda and Ethiopia and roasts them to create various coffee varieties.
Customers can enjoy coffee on location, buy ground coffee or organise to have Monate Coffee on Wheels, a mobile coffee unit which serves a variety of coffee drinks at private functions. There is also an online store.
She added that much of the world's Arabica coffee is grown in Africa and coffee plants originated in Ethiopia. It is time for black South Africans to learn more about the drink, says Khobane, who hopes to form a coffee forum for black-owned coffee businesses in Africa to learn from one another.
So far Monate Coffee has created job opportunities for nine people, with three people employed at the North West outlet, three at Cedar Square and two people forming part of the production team.
Khobane encourages her team to explore all avenues of the business and develop their skills. In three years, she hopes to have a fleet of Monate Coffee on Wheels units so that she can turn employees into entrepreneurs that manage their own coffee businesses under the Monate Coffee brand.
Khobane has a BCom in Economics and Management from Rhodes University and an entrepreneurship qualification from the University of Cape Town.