The learners of Soshanguve Automative School of Specialisation are well on their way to becoming future engineers and solving the South Africa's transport and energy problems.
These pupils built a solar-powered train.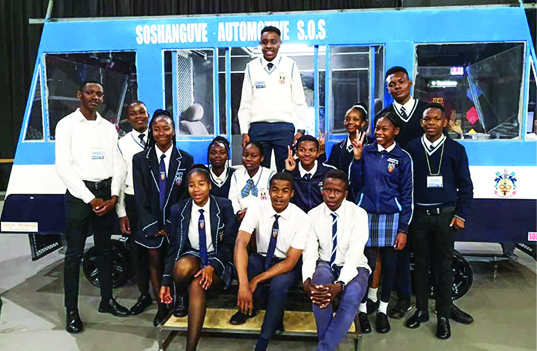 Grade 12 learner Ronnie Masindi who was part of the budding engineers who built the train said they were inspired to take on this project by the desire to address a challenge faced by millions of South Africans daily – the need for safe and affordable public transport.
Masindi adds that while trains are essential to a good public transport system, many routes are not operational because of load shedding, vandalism and cable theft.
"We decided to create a solar-powered train. Solar energy is going to be important for South Africa [in the future]. God gave us the blue skies and sun so we can use them to make our lives easier," he says.
Masindi says the determination of the team saw them work relentlessly to complete the project.
He says the team started by doing a three-month literature review to assess articles on how to build locomotives and how solar panels work.
"We started building the train during December [2021] holidays… we were here on New Year's Eve and Christmas day. It took us months to complete the train," he says.
The students' hard work paid off and the project has won prizes at, among others, the Sasol Innovation Expo and the Students for the Advancement of Global Entrepreneurship (SAGE) national competition.
Soshanguve Automotive School of Specialisation acting principal Tladi Mashiane hailed the innovative minds and determination of the young students.
"To be honest, when the pupils told me about the project, I was not sure this would work. By the time I saw the train move, I was over the moon. We have to change our perception of the youth because they can become the key drivers in this dispensation that we are living in."
He believes that teaching engineering at a high school level is important.
"When you give learners the space, support and guidance, they will showcase their innovation, talents and skills," Mashiane says.
The team is expected to represent South Africa at the SAGE global competition to be held in the United States of America at the California University in 2023.