Their concern for girls and women who are unable to afford feminine hygiene products prompted two Tshwane teenagers, Goitseone Maboe (17) and Neo Cholo (17), to launch Mosetsana Feminine in June 2022.
The company provides safe and affordable sanitary pads to the lower-income market. Mosetsana Feminine pads cost R13, 99. The teens hope that with Cholo's involvement, it will send a message to other men that they should help ensure their loved ones have access to sanitary pads so that they can carry on as usual when they are menstruating.
Maboe admits that entering the femine hygien market has its fair share of challenges, but is confident that they will be successful by remaining strategic and dynamic.
"Through teamwork, we are determined to make our company a success."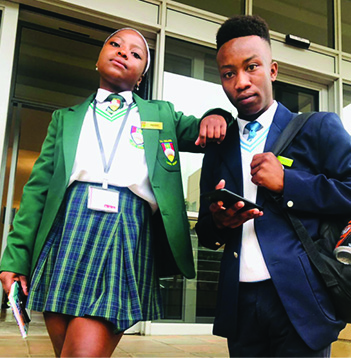 The team is planning to expand the Mosetsana Feminine range to include tampons and intimate washes. "We also want to launch a student desk in different regions to address issues around feminine products and maybe even have a dignity drive, where students can get the products at a subsidised price," she says.
Mosetsana Feminine pads are also approved by the South African Bureau of Standards.
Cholo is no stranger to entrepreneurship as he started his first business, African Neo Media, a public relations and marketing agency, at just 15 years-old. As a result, he was nominated as one of the three teenage entrepreneurs to represent Gauteng in the national leg of the Students for the Advancement of Global Entrepreneurship (SAGE) Annual Competition held in KwaZulu-Natal in 2022.
SAGE is an international non-profit organisation devoted to the development of teenage entrepreneurs. Even though he didn't win, Cholo used the platform to introduce Mosetsana Feminine to a wider audience. While at the finals held in Durban, they were advised to become members of Proudly South African, which Cholo says has boosted the credibility of their business.
He says he also realised that the youth are no longer waiting to reach 18 to work on their dreams. "We are interested in rebuilding the country and making it a success. Even as high schoolers, we create opportunities for ourselves so we can have a prosperous future."
To purchase Mosetsana Feminine, visit www.mosetsanapads.co.za or place your order via WhatsApp on 067 982 1511 / 068 349 4162