In 2019, Itumeleng Lekomanyane (30) spent his last money to buy ingredients for sandwiches that he planned to sell at Johannesburg taxi ranks.
Unemployed and with a daughter to raise, he knew he needed to come up with a plan to earn money.
Today, he is the proud owner of Sandwich Nton Ntons, which has two stores, bakes customised cakes, offers catering services and still sells sandwiches and other goods on the street.
Lekomanyane runs his business in the Johannesburg city centre. He is originally from Mahikeng, North West.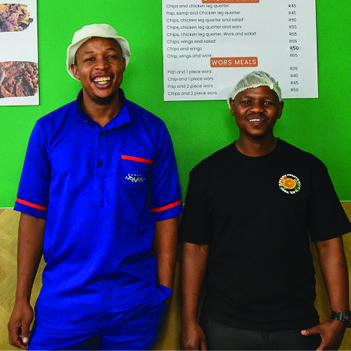 He added that Sandwich Nton Ntons has created 25 job opportunities.
Like most youth, Lekomanyane had a tough journey. After redoing matric in 2012, he went to college but had to drop out because of a lack of money. He found temporary employment and after that, opened an embroidery and printing business, which failed after two years.
Frustrated, Lekomanyane looked for other entrepreneurial opportunities. He noticed that most vendors at Johannesburg's busy taxi ranks sold only basic morning food, such as scones, and came up with the idea of selling sandwiches.
Taking a risk, he used his child's maintenance money of R800 to make 16 sandwiches and although only five sold, he persevered. He says no matter how tired he was, he would wake up early enough to prepare his sandwiches and be at the taxi ranks at 5am, when people started commuting to work.
To this day, Lekomanyane, his business partner Sammy Diphoko and employees put in a lot of effort to keep customers talking about their tasty food.
In the next five years, Lekomanyane wants to open three more stores and join Uber Eats.
The business' growth has not been without setbacks, with one of the worst being when two employees stole all the company's money.
He advises the youth to start small, by selling fat cakes, sweets and snacks in busy areas. He says once an enterprise is up and running, no matter how small, it is more likely to get funding.
This was the case for Lekomanyane – his business was already operating when he applied for and got a business loan and equipment for his kitchen from the Small Enterprise Finance Agency (SEFA), a government agency that provides financial products and services to small, medium and micro enterprises and cooperatives.