Written by Kgaogelo Letsebe
A disadvantaged background didn't stop Solomon Morerwa (23) from building a golden future.
He is the founder and owner of Golden Industry of Technology, an information and communication technology (IT) firm in eMalahleni, Mpumalanga.
Morerwa says his desire to lead a better life drove him to accomplish his dreams.
"There is no business background in my family that I could refer to. For instance, I am the first one to attain a university qualification, start a corporate business and even earn a decent salary."
After matric, he says his family could not afford to pay for his studies. "I managed to raise the registration fee for an IT diploma at the Tshwane University of Technology."
In his second year of studies, he started working as a student tutor on campus and was able to send some money back home.
In his final year, he obtained six distinctions and at 19 years of age, started working at Eskom Matla Power Station as an intern.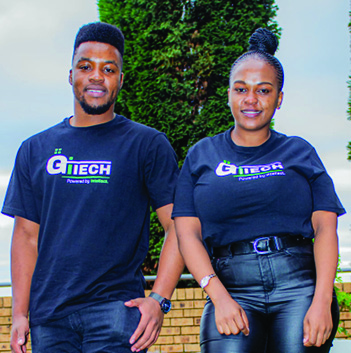 The following year, in May 2020, Morerwa started Golden Industry of Technology.
Technology is part of every business, he says, explaining that it plays an important part in day-to-day operations. "I knew this is an industry I could not go wrong in and it would enable me to alleviate poverty."
NYDA support
In his quest to grow his company, Morerwa reached out to the Emalahleni branch of the National Youth Development Agency (NYDA), applying for both financial and non-financial support. He was awarded a R47 257 voucher which he used to purchase equipment for his business.
"The NYDA voucher aided with buying equipment, while the non-financial support provided entrepreneurship development training," Morerwa says.
His company employs five IT engineers, three software developers and two database administrators on a full-time basis.
Golden Industry of Technology has secured some big clients, including eMalahleni Private Hospital, which contracted the team to host and maintain its website.
Morerwa says entrepreneurship is not easy and needs diligence, perseverance and hard work. "You must develop honesty, quality relationships, ability, willingness to work hard and set priorities.
To find out more about the NYDA, visit www.nyda.gov.za/or call 0800 58 58 58 (toll-free).