Written by Phiwokuhle Zokufa
Fikiswa Fuxwana is one of the local people who can now provide for her family thanks to the construction of the Msikaba Bridge which forms part of the South African National Roads Agency's N2 Wild Coast project.
"I started working here in 2020 as a general worker, I got promoted as a site clerk, my job includes making sure that plants have fuel", said Fuxwana.
She added that before the construction of the bridge she struggled with employment opportunities.
"After receiving a job due to this construction my life changed. I am a breadwinner in my family. I am now able to provide them," said Fuxwana.
The project has created over 446 job opportunities for community members that reside in the villages of Lambasi, Nkunzimbini which are in close proximity to the site. The local community has received jobs as general workers, safety administrators, and store clerks.
The project is expected to connect the Eastern Cape and KwaZulu-Natal provinces.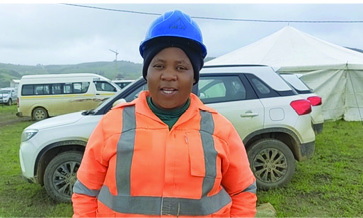 Local business people such as suppliers, service providers, and sub-contractors are also said to be benefiting from the R4 billion budget for the construction of the project.
Minister of Transport, Fikile Mbalula recently visited the Msikaba Bridge to assess progress made in the construction of the bridge.
"These kinds of projects must provide skills to the black underprivileged communities. Contractors must transfer skills to residents so that when the project is completed, rural communities can stand on their own," said Minister Mbalula when addressing residents.
The bridge is expected to be completed in April 2024.
On completion, the N2 Wild Coast project will contribute to economic growth and job recovery initiatives by the government. The project will also ensure safe traveling and improved road safety for villages along the country's Wild Coast.