A win-win solution has been reached on the Gauteng e-toll system that will bring relief for road users affected by rising transport costs. The revised e-tolls tariff structure and simplifi ed methods of payment are among the key features of a new e-toll dispensation system to be introduced in the province over the next 18 months.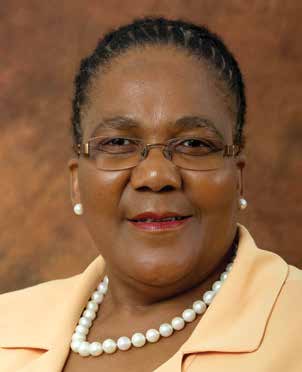 A new e-toll dispensation for Gauteng will reduce the cost of transport for all road users and introduce a more effective way to collect the toll fees used to pay for the initial construction cost, fi nancing cost, operation and maintenance of the road network. In terms of it, all road users – with, or without a SANRAL account – will pay, but at an affordable, capped monthly rate with light vehicle owners only paying 30c per km.
The new dispensation will help to further reduce the burden of transport cost on lower- and middle income families. It also confi rms the user-pay principle as the primary instrument to fund much-needed road infrastructure. We have reached a win-win situation after an extensive process of consultation with road users and affected communities.
This is a practical and workable solution reached in the spirit of cooperative governance and taking into account the best interests of communities who benefi t from better roads and are willing to pay for their construction, operation and maintenance. Road users will receive additional benefi ts such as a simplifi ed payment system including various options for the settlement of accounts.
Vehicle owners that do not have a SANRAL account will still have to pay, but with newly introduced and very affordable monthly caps. Occasional road users and visitors from outside of Gauteng will be allowed 30 free gantry passes per year – but will have to settle their bill in full once this maximum has been exceeded.
There are currently 1.3 million vehicles that have an account with SANRAL. We are confi dent that by introducing the new option for payment via the existing vehicle licencing process and South African Post Offi ce outlets, all road users will find a payment solution that suits them. We want to emphasise that the user-pay principle and the e-toll system in Gauteng remain in place. The gantries will not be switched off and all road users will still be required to pay and settle their outstanding debts.
Commuters who travel by public transport such as taxis and buses will still enjoy a 100% exemption from e-tolls, provided such vehicles have an account with SANRAL, are tagged for purposes of recognition and have completed the application process. Reductions in monthly caps for larger vehicles will bring relief for the transport and distribution sectors.
Decisions on a lower rate and a wider reach of the new dispensation were taken in response to public concerns about the socio-economic impact of e-tolling on communities and its recommendations were considered in the drafting of the new funding model. We thank Deputy President Cyril Ramaphosa for having ably led the process which resulted in this new dispensation of e-tolls. The new system is proof that government has listened to its citizens and reponded by lowering the cost of travel and simplyfying the system.
All e-toll accounts need to be settled in full, before the annual vehicle licence disc will be issued. They can do so by using the existing vehicle licencing process at licencing offi ces and the South African Post Offi ce outlets. E-toll accounts will be mailed by using the contact details held with the Registrar. In order to address the challenges with ownership details held by the Registrar, legislation has already been passed that requires all vehicle owners to update their details with the Registrar by October 2015. Even though toll costs will be capped for all, it should be noted that users should pay their accounts within 30 days of the invoice date to avoid the increase in toll tariff to 60c/ km (for light vehicles).
The new tariff system will be introduced in phases over an 18 month period with some of the changes expected to be in place before the end of 2015. Certain legislative amendments will also be  required. SANRAL will need time to adjust the technology systems that runs e-tolling to make it possible for the new changes to take effect. We trust that the new system will bring certainty to both the users of our roads and SANRAL as the implementer of national roads policies. We call on all road users to pay their e-toll fees, and work together with the provincial and national authorities in the implementation of the new dispensation.
The fact that the vehicle licencing system is applicable in all nine provinces means that there will be no benefits for owners to register their vehicles outside Gauteng in an attempt to avoid paying e-tolls. We want to assure the public that this will be done within the framework of the law. At each licence renewal point the system will indicate the size of the outstanding e-toll fees. Vehicle licence discs will be withheld until toll bills have been settled.
Additionally, an owner who sells a vehicle will remain responsible for the outstanding amount. SANRAL will in due course, provide further details of these changes as the new system gets  implemented. With the signifi cant reductions announced on the 20th May 2015, there can be no justifi cation in stating that e-tolls are unreasonable.
Government has listened to the people and government has responded. We remain committed to provide worldclass road infrastructure such as the Gauteng freeway network and will continue to work with provincial and local authorities to ensure these roads and the future phases of the Gauteng Freeway Improvement Project (GFIP) are adequately funded.
Dipuo Peters
Minister of Transport
Road users will get a 60% discount on debt dating back to December 2013 with 6 months to settle your account.